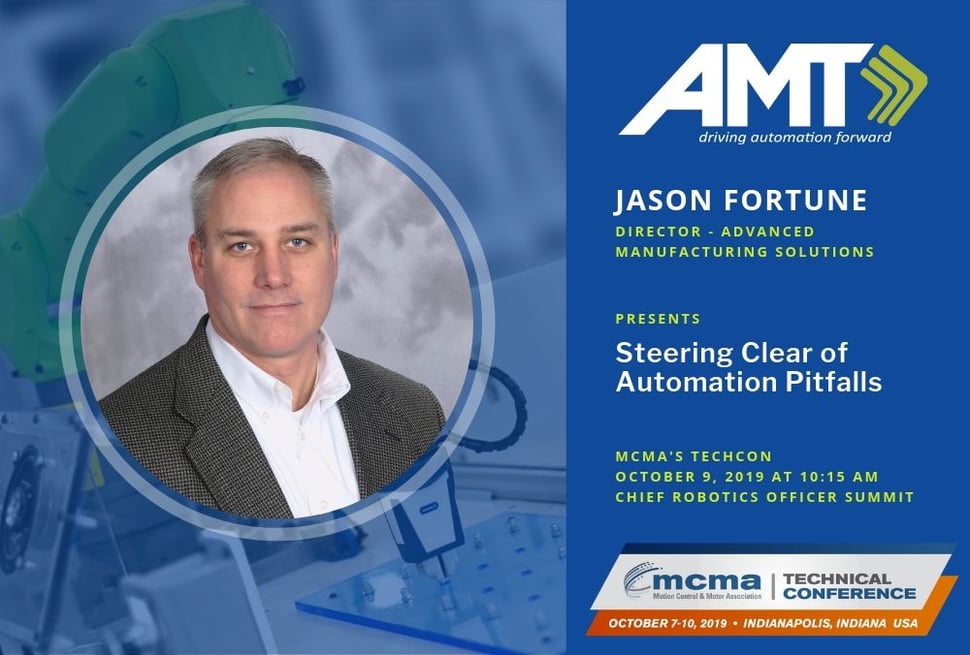 AMT's robotics expert and Director of Advanced Manufacturing Solutions Jason Fortune will present "Steering Clear of Automation Pitfalls" at the Motion Control & Motor Association's (MCMA) TechCon sponsored by the Association for Advancing Automation (A3). The conference will take place October 7-10, 2019 at the JW Marriott in Indianapolis, IN.
During this presentation, Jason Fortune will share some of the strategies and tools attendees can use to steer clear of automation pitfalls. This will include teaching a structured process for determining whether an application should be automated including framing the challenge, conducting an engineering analysis, verifying the business case, identifying stakeholders, and managing the project.
Jason is the author of various technical articles, most recently featured in Today's Motor Vehicles.
Presentation: Steering Clear of Automation Pitfalls
Event: MCMA TechCon hosted by A3
Date: Wednesday, October 9, 2019 at 10:15 AM
Location: JW Marriott, Indianapolis, IN
Registration: Register here