Collaborative Robot Safety: Assessing Risk and Making Changes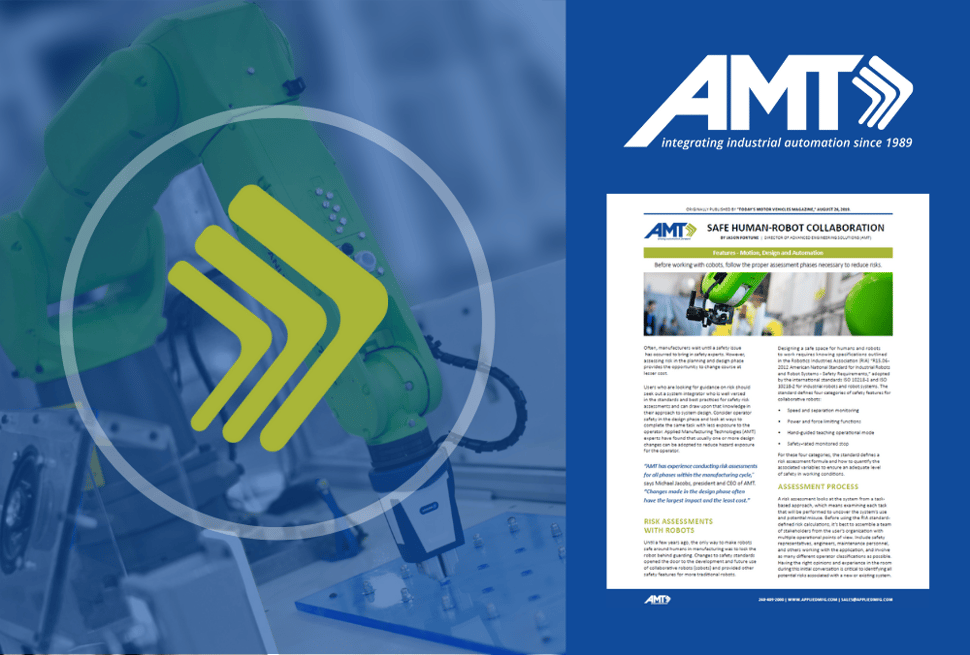 AMT gives guidance on assessing and mitigating collaborative robot safety risks in an article published by Today's Motor Vehicles, August 26, 2019.


Often, manufacturers wait until a safety issue has occurred to bring in safety experts. However, assessing risk in the planning and design phase provides the opportunity to change course at lesser cost.

Users who are looking for guidance on risk should seek out a system integrator who is well versed in the standards and best practices for safety risk assessments and can draw upon that knowledge in their approach to system design. Consider operator safety in the design phase and look at ways to complete the same task with less exposure to the operator. Applied Manufacturing Technologies (AMT) experts have found that usually one or more design changes can be adopted to reduce hazard exposure for the operator.

"AMT has experience conducting risk assessments for all phases within the manufacturing cycle," says Michael Jacobs, president and CEO of AMT. "Changes made in the design phase often have the largest impact and the least cost."

Download the full article to learn about the collaborative robot risk assessment process, the standards that govern safety, and recommendations for implementation and verification.
safe human-robot collaboration
Risk assessment process with robots
Relevant safety protocols
Implementation
Verification
Additional recommendations