Mike Jacobs Honored with Engelberger Robotics Award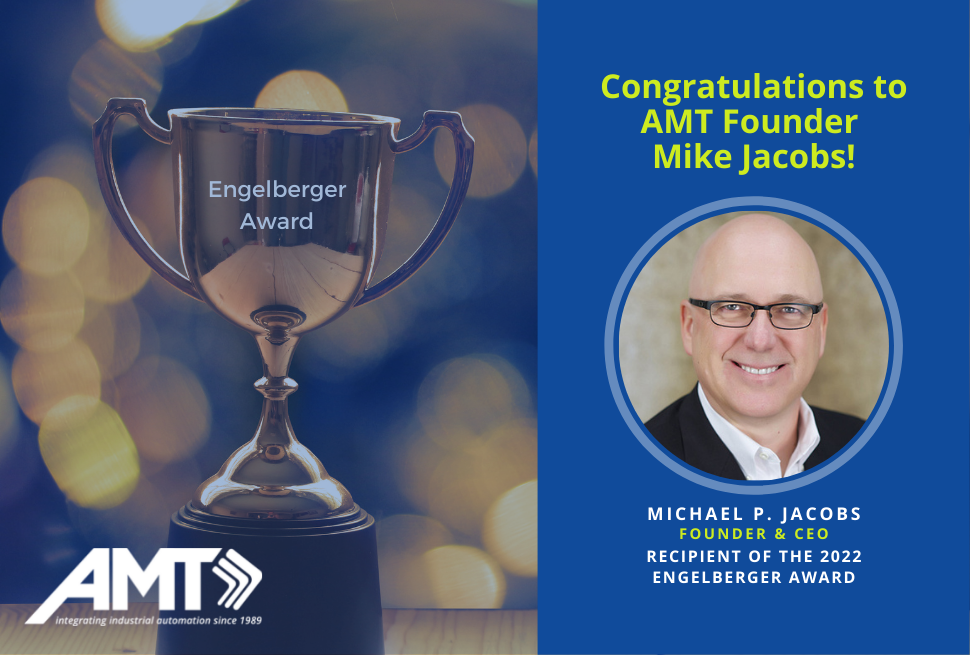 AMT Founder and CEO Mike Jacobs reflects on his career and what receiving the Engelberger Robotics Award for Leadership means to him.
Mike Jacobs won't admit it, but he is a robotics industry giant; he now has the Engelberger Robotics Award to prove it. Named after robotics champion Joe Engelberger, the Engelberger Robotics Award is considered the world's most prestigious robotics honor and is presented to individuals that are monumental in the robotics industry. Joe Engelberger was widely known as the "Father of Robotics" and was committed to developing ways in which robots could be used for the good of mankind. The recipients are chosen through a process that begins with a round of nominations and ends with an award committee of the past presidents of Robotic Industries Association (RIA) choosing the recipients after reviewing all nominations. The selection criteria is considered for each nominated candidate - consisting of required identifiable technological advancements, future expectations to enable the growth of robotics, recognized contributions to the automation community for a minimum of 10 years, and more. RIA, now known as A3 Robotics, became a daughter organization to the Association for Advancing Automation, the A3, who now gives out the award.
Mike has a long history with the RIA and A3. His contribution to the RIA started in 1995 after founding AMT. He was an active member serving on the membership and marketing committees, transitioning in the 2000s to committee chair positions, and finally as RIA Chairman from 2016-2017. After his term as RIA chair ended, Mike served as a board member for A3 and was part of the group that created the plan to consolidate the RIA and other industry associations into the A3. He was later invited to be one of the first members of A3's Artificial Intelligence Technical Advisory Board, where he still serves today. Mike has a legacy of contributing to the growth of the robotics industry through AMT's Automation Academy, mentoring, and training programs that have successfully launched more than 350+ people into the robotics industry.
"I met Joe Engelberger a couple of times at the RIA meetings," Mike said. "Joe had a vision of where robotics would go 50 or 100 years in the future. His vision of robots working alongside humans is becoming real now. Joe was very inspiring: a true visionary."
Mike continued, "In the 1980s, robots were doing the tasks that humans shouldn't be doing, those that are dull, dirty, or dangerous. We were replacing those jobs with robots and mechanized machines and we're still doing that. But now, robots are doing things that we can't do. They're lifting parts that are heavy or they're using vision that's not in the visible spectrum to do tasks. They have senses and they can do some reasoning, but the reasoning they can do right now is limited. Their capability will continue to develop over time."
When thinking of where robotics is headed, Mike said, "With robots, there's a dystopian future where we become the slaves of the robots, but I don't think that's going to happen. I think they're going to be our help mates; they're going to work alongside us. Robots can already do things that we can't do. We can do some things that they can't do and our mind is unique. Your mind, your ability to reason and think, to predict, to see the future and have vision - those are uniquely human. No other creature has that ability. And that ability will allow us to continue to work alongside robots and have them as enhancements to our lives. I absolutely see that."
Early Career
Mike started his career in computer software for the manufacturing industry. From 1977 to 1983, he worked as an engineer at the Research & Development Centers of Westinghouse and Eaton. His responsibilities included designing and implementing computer software for the simulation and analysis of electrical and mechanical systems, including electric and other hybrid vehicles. At those companies Mike was part of a team that produced computer systems for the real time control of the USA power transmission grid, was a co-author of Eaton's corporate CAD system, and designed control systems for real time product test stands. This began his technical interest in robotics.
In 1983, Mike joined the newly-formed GMF Robotics (now FANUC America) during its first year of operation as employee #125. He was the first technology manager to be hired from outside either GM or FANUC. "GMF shook up the robotics industry in the 1980s. It had the privilege of its birth, having parents General Motors and FANUC. General Motors was a built-in customer base and FANUC was a built-in provider of excellent machinery and robotics. It was inspiring getting to work under the leadership of one of my mentors, Eric Middlestat."
From the R & D group at GMF, Mike's task was to lead a team of software developers to design and deliver computer systems for the offline programming of robots. He pioneered the product development and market introduction of robot simulation and offline programming systems and spoke on the topic at the landmark Robots 8 Conference in Detroit June 1984. "Essentially, we created the ability to program robots, I always say, from a cartoon representation of them in computer graphics. We were pushing the boundaries of what computers could do at that time," said Mike.
In 1987, Mike laid out the design and led the implementation that is commonly used today to accurately represent robot motion on a graphics computer. "Many of my mentors early in my career were Engelberger Award recipients," said Mike. "Lothor Rossol was one of my mentors; he was Vice President Product Development at GMF. Lothar selected me to lead a group at GMF that would develop computer graphic programming of robots offline. At that time, people barely knew how to program robots and were wondering what robots were. I was given the task to change the way they were programmed and do it with standalone computers, which is now accepted as a standard way of programming them and doing it with computer graphics. At that time, computer graphics were just being developed along with the ability to have these high speed, what we now call CGI, computer graphics effects. Lothar had a visionary gift which was inspiring to me."
"The product that my team developed at GMF was the first computer graphics product for FANUC, and it's now called ROBOGUIDE Simulation Software. The team at FANUC that develops and supports ROBOGUIDE is, if you will, walking in our footsteps."
Mike and his team also worked on a project to give computer graphics very accurate motion for robots which was Mike's own concept. In the development, Mike said, "I realized that we had an advantage in the product development because my team sat right alongside the robot controller development team. I put the question out there; I posed the problem: "What would it take to use the robot controller software that tells the robot how to move, port it to our graphics workstation and use that to tell our computer graphics how to move?' " Mike and the team went on to do just that.
Mike's project improved the accuracy of what the computer graphics are showing and on a 3D screen. "The first accurate rendering of robot motion in computer graphics came from our team and my concept. It's called the RCS module and it's an industry standard now. Patents weren't issued for software back in the 1980s, but if they had, we would have been eligible."
The Entrepreneurial Urge - The Start of Something Great
After six years and several big wins at GMF, Mike began to get the entrepreneurial urge. One day in the kitchen with his wife, Susan, Mike made a comment about leaving GMF to create a startup of his own. Susan's response of "either do that startup or quit talking about it" endorsed his entrepreneurial longing and the AMT adventure began. For nine months, Mike found and executed jobs on his own. When he came across his next gig that was too large for just one person, he turned to a trusted, former GMF coworker, Don Stephanic, and AMT doubled in size. By 1992, AMT had more than a dozen employees and moved into their first rented office space in Rochester Hills, MI.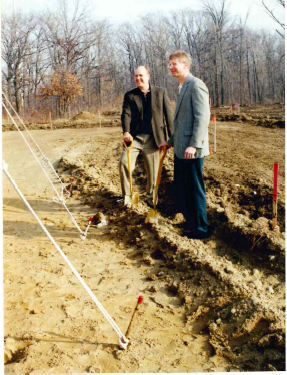 Two years later, General Motors approached AMT with a plant expansion project that required 28 robot programmers and the company once again grew dramatically. Along with the new size of the team, it was soon time for the company to find a larger building. Unable to find a suitable facility, AMT set out to design and build a much bigger building of their own and in September 2000, 90 employees moved in. The economy hit the skids in the 2008-2009 recession. Fueled by GM's bankruptcy, the recession was a stressful time for AMT, losing 60% of their business and 40% of the employees. After a few twists and turns - expanding into systems jobs, a new acquisition strategy, and taking on work in new industries, "The company got leaner, and we survived, learned a lot, and grew again," said Mike. "We started to consciously diversify the business from automotive, and when the recession hit in 2008, we were less vulnerable than we otherwise would have been."
Present Day AMT
Fed by its original entrepreneurial flair, AMT still implements a culture of continuous improvement and development. Now in their fourth decade, founding AMT has helped connect Mike with what he considers his life purpose - to build and expand careers by helping employees use their talents to advance their careers to fulfill their lives. He uses this as his motivation to grow and continue adapting in the robotics industry. Today, AMT consists of over 120 experienced robot automation engineers with over 1,250 combined years of experience that have engineered over 25,000 diverse robot automation systems worldwide.
"I'm extremely flattered and humbled that our employees entrust their careers, and really their professional lives, to AMT," Mike said. "From the beginning, AMT's purpose has been to build and expand careers because that's an essential part of people's productive life and applying their talents to advance their careers is fulfilling. It's part of happiness; you aren't going to have a happy life unless you're using your talents and applying them. It's what motivates me to come to work and to continue to grow and make sure AMT is healthy and has a solid future."
Mike continued, "We do this not only for our more senior employees, but also for the new graduates that we bring into this industry and the work we do to start their careers, showing them the proper way to behave in business. It's always been a core value of ours to behave with integrity and we don't have time for people that don't behave well and don't act with integrity; there's no reason to take those shortcuts."
Returning to his award, Mike reflected, "I am truly honored and deeply humbled to be recognized by industry leaders with an award that bears the name of Joseph Engelberger. At AMT, in the spirit of innovation in robotics and automation, we have continued to break new ground. Someone said to me recently, 'Mike, you are AMT and AMT is you.' I believe that factored highly into my ability to achieve this award."
Read this article to learn more Mike Jacobs and the history of AMT. For more information on the Engelberger Robotics Award for Leadership, read this article.