AMT Announces Core Values Award Recipients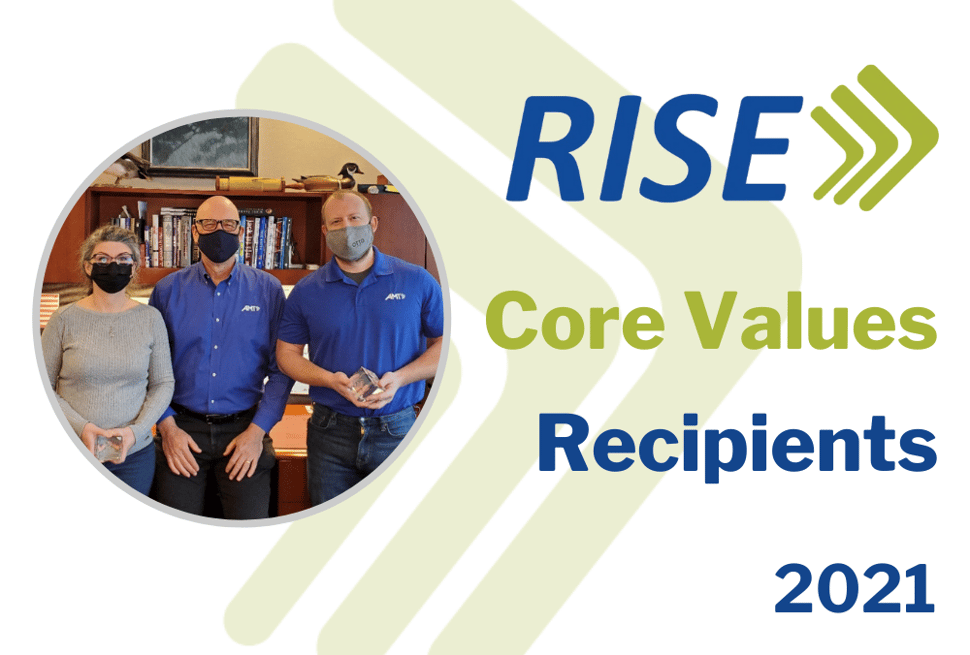 Congratulations to 2021 RISE Award recipients Josh Galloway and Louisa Asciniuc!
Since 2004, Applied Manufacturing Technologies has recognized two employees each year as embodying the company's core values of respect, integrity, support and excellence. Employees are nominated anonymously by their peers and the management team meets for the difficult task of selecting just two recipients for the award.
The RISE Awards were created to recognize the exemplary actions of AMT's engineers, sales persons, technicians, and back-office staff; executives and engineering managers are not eligible.
AMT's core values are the characteristics that define what the company stands for. It is these values that form the basis for our operations and the decisions that are made at our company. AMT's core values are:
R - Respect for the Individual – We're all unique and each of us has something valuable to contribute. We not only recognize that, we wholeheartedly embrace it.
I - Integrity – We are stand-up men and women. We say what we do and do what we say.
S - Supports the AMT Team – We enjoy working as a team, supporting one another, getting more done by using our combined energy.
E - Excellence in Reputation – A part of something special – not every company is like AMT and we like it that way. We're proud of who we are.
President Mike Jacobs encourages employees to submit their nominations each year, "It is a great opportunity to recognize someone who has gone the extra mile for AMT employees or our customers, and consistently displays our core values."
This year there were 29 nominations. "It's quite a list," said Mike. "It's a large percentage of our company, and it's great to have these nominees. People are nominated by their peers, and it's one of the strengths that we've found in this process."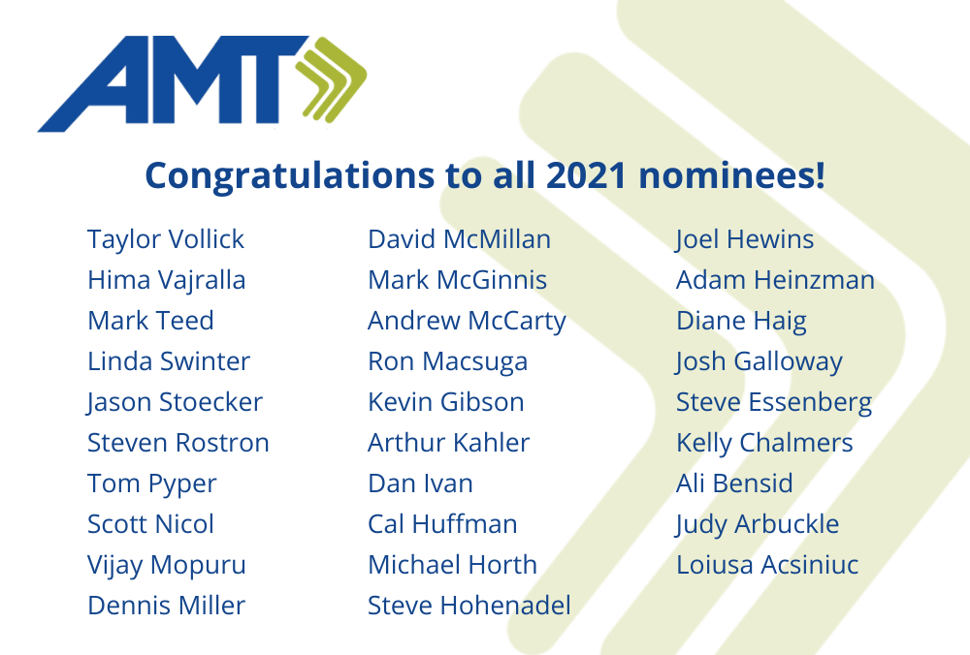 The 2021 RISE Award recipients are Josh Galloway, IT Lead and Digital Solutions Architect and Louisa Asciniuc, Senior Controls Design Leader. "I've worked AT a number of companies in my life, and I've worked WITH a lot of companies in my life. I truly believe that what we have now at AMT is special. It's different," said President Mike Jacobs in his announcement to the company. "Please be very jealous of what we have at AMT. Keep it strong and vibrant; it will serve you well."
Josh Galloway
"Josh has supported the AMT team by taking on more and more responsibilities, especially on ASG systems. He's designed tablet applications to replace an HMI, he's written custom software to collect data out of a PLC, and has guided us as we dig into a full remote-monitoring solution. Some of these are feats that have never been done before, so he makes those things without examples to reference, and gives AMT a solution that no other company in the world has figured out."
"Throughout all of those tasks, he's shown excellence by making sure that he and the rest of the team are proud of the end product. It's one thing to write prototype code that just barely gets the job done; Josh keeps improving it until the solution is state of the art. The quality of his work surpasses entire companies like some of our vendors."
"Every time I ask Josh for help, he responds quickly. What really amazes me is how he just looks at the screen sometimes, and my issue suddenly disappears... Humor aside, I always feel my IT problem will get solved one way or another when I ask Josh for help. He never makes me feel like embarrassed. He is a team member I can count on."
Louisa Acsiniuc
"Louisa has been a huge asset to AMT since she started. She is willing to jump in and help on any and all projects, juggling them as she goes. When issues arise, she is there to care for them personally and be right next to you working them out. Her reputation for being an expert in our field is proven daily. Even if it's something Louisa has never touched before, she will take it on and become an expert on it in a very short time. She is a ball of fire that keeps us all on our toes. It's great to work with someone of her caliber."
Meet the 2021 RISE Core Values Award Nominees
The management team was once again impressed with the plentiful nominations, and several employees received multiple nominations. The testimonials below are especially touching when remembering that the nominee does not know who wrote them.
Anonymous Nominations
"He has recently changed to a process engineering role, and he has really excelled. When the customer needs something, or his team needs something, he steps up and makes sure everyone has what they need and is happy. Because he understands the technical side of robot programming, he can easily see when something might be an issue and resolve it without long delays. He quickly works to find a solution to any obstacle. I have worked with him on many projects, and I can say there is nobody I would rather have supporting me on my projects."
"I have heard it said by AMT employees and customers that she delivers excellent work, 'She hit it out of the ballpark," is a statement I once heard her manager say. She is the quiet team player whom her colleagues can always count on. She carries herself with a calm dignity and intelligence, and she shows respect to all. I would like to mention that she also has a great smile and you can tell she takes an interest in what you are saying when you talk to her."
"Most of us had read many articles on "leader versus boss." If I get a chance to give an example for a leader then it is [name]. He hears and understands the problem in all directions and supports to the best extent to his team and always tries to keep his team happy, productive and efficient. Thank you very much for all your support."
"She epitomizes supporting the team. She is always looking out for the best interests of the team. She makes sure that things are done properly which helps to drive AMT forward."
" 'Steady as she goes,' is the course he approaches the build projects that he gets involved with! He is one of the main machine assemblers AMT has working in the shop. As frustrating and demanding that our assemblies can be, he seems to buckle down even more when the going gets tough! His ability to find and quickly fix, repair or even offer a better idea is one of his best traits. I don't hear him complain when he is requested at times in the 11th hour when he is asked to go out of town or meet at a plant in the early hours of the morning. His ability to pull time out of the build on the shop floor and installs on the customer's plant floor shows that he is at the top of his game and truly enjoys what he is doing for us at AMT. The rest of the team as well as myself blend well with him because we pull together to produce the best assemblies AMT as to offer, with him being there it just makes our job much easier to do so!"
"He always goes above and beyond to make sure customers are happy and that AMT is well represented. He will do whatever it takes to get the job done. He always puts the company first and is a great representative for AMT. If I ever need anything, he is always a phone call away. He's a great worker and just a great guy all around, that's why I feel he should be recognized for this award."
"He is a tremendous asset to AMT and our customer relationships. He's a pro when it comes to managing customer expectations and does so with respect, excellence, integrity. He is a pleasure to work with and represents AMT's brand promise to the market."
"His tenacity drives AMT forward. He cares for team members and works to create an ideal situation for employees and customers. He has helped to ensure AMT's excellent reputation throughout the industry."
"He is knowledgeable and hard working. He is a problem solver and available anytime to answer questions. Thank you for your guidance and support."
"He has been supporting a prominent food packaging manufacturer on a research and development-style project over the course of the last year. This required concepting and proving out mechanisms to accommodate multiple product conditions and thinking 'out of the box' to come up with cost-effective solutions. He has shown his SUPPORT of the AMT team through his collaboration with the group, pushing the group to try out new ideas and if necessary, pivot to another option quickly. His INTEGRITY was evident in following through with support of his design ideas including creation of 3D-printed test fixtures to decide if a proposal had merit. He showed EXCELLENCE in his reputation as he helped install confidence in a new customer and RESPECT by deferring to team decisions regardless of whose idea it was."
"He has always been there for other employees to answer their questions and share his knowledge. This year, he has taken it to another level. He has helped to mentor multiple employees on site and continues to help support the team he has helped to develop."
"Although he may not be eligible due to his leadership role, [name] is a role model for AMT and his direct reports. From technical knowledge in systems and working with the team in a caring manner, he represents excellence in reputation and integrity for all of AMT. He is a pleasure to work with and is respected by AMT and his peers."
"He is willing to share his skills with others through answering questions and mentoring. He takes an interest in other team members and helps them to succeed. His interactions with customers help to solidify our excellent reputation."
"When you walk out on the shop floor it is hard not to bump into him. He makes a point of saying hello to everyone walking by whether it be a customer, potential recruit, or if you are just nosing around. He demonstrates integrity and excellence in reputation with a 'get it done' approach. He takes care of a number of customer service items on the weekends or off hours that not everyone is aware of. He's been a great asset to AMT and our ability to execute projects."
"He is always ready to jump into a problem and solve it. Even if he is busy on other projects, if there is a question, customer issue, or anything else, he is ready to help. He has been instrumental in working on the AMT specifications and standards. I have seen him take over a system several times and get it back on track quickly, without complaining. His goal is to make sure the customers have a great system when they receive it. Several customers request that he is on their next project, due to his knowledge and work ethic."
"He is always willing to support and assist the controls team when needed. He's got the technical background to support and work technical issues out. He understands the necessities that we as humans and our families have. He's got the good leader profile the controls team needs."
"He is more my partner than my boss when I need support to do my job. He always has good advice for me and although he is very busy, he always finds time to attend to my requests and questions. When I talk to him, I feel his effort to make me feel supported and I feel his effort to find a solution for me. I tend to be somewhat stubborn when looking for solutions, yet he has never despaired of me. I feel very supported by him and I am very proud to belong to his work team. Also, my lack of language skills has never been a problem for him."
"He never hesitates to help, and he does it with a great smile. He shows an interest in the lives of his fellow employees and he treats everyone with respect. He is recognized by many as someone who will do what it takes to get something done and you know it will be done well."
"He has taken on direct mentorship roles with new employees this year demonstrating his support for the team. He shares his knowledge ensuring AMT's success. When working with customers, he becomes an essential member of their team, strengthening our excellent reputation."
"When I think of all the core values, he fits them all. He is always willing to drop what he is doing and offer assistance or to focus on a customer's needs. His integrity to AMT is seen by the way he speaks about the company and is never self-promoting. He doesn't view the project as a win until the team wins together. Also, there is the '40 Under 40 Award' for his talents that speaks volumes in the industry. He is a great part of the AMT team and a joy to work with."
"He is always willing to give advice or help when needed. He will go out of his way to help new employees feel like they are at home. He pushes them so they learn the correct way to do PLC or robot programming. A good mentor to others."
"He truly exemplifies what AMT has defined by our Core Values. I was happy to see him move into a leadership role this year. He has shown his ability to lead through respect and support. When helping others, he takes his time to understand the other engineer's take on the project they are working on. He respects their ideas and is able to give new suggestions to help our team succeed. He was able to support me by taking time to set up a meeting, walk through, and resolve the issue I was encountering. He shows his integrity at a high level. He will make time to work with and help others. He is always a joy to talk to and greets you with a smile. He shows a great work ethic and will do what it takes to help others succeed. He builds strong relationships with our team and our customers. he promotes our excellence in reputation at AMT with each person he meets."
"He has taken on a leadership role with a new customer. His attitude and drive to get things done have been recognized on many occasions. The customer has said 'send us more [name]s.' He ensures our excellent reputation. He has also been mentoring some of our recent hires on the job and checking in on employees that he has previously mentored."
"He supports the AMT team by his ability to work on multiple simulation projects concurrently setting his priorities daily to keep them moving. With his input to design during concepting, AMT has been able to reduce project timelines. His integrity is shown by his thoroughness and effort, sometimes after hours to get answers to challenges simulation can best answer."
He has transitioned into a new group/management this year with the systems controls group. He continues to utilize his simulation skillset during the early stages of projects and supports processing and design direction. He also has worked on projects in a programming capacity to get robots running on our floor and support through installation in the field, not to mention all the additional project support and sales support he has worked on. I, myself, have been able to count on his support in multiple areas this year. During all of this work, he has also expanded his customer-facing role, in particular on the [customer] project. In a recent interview, the customer directly referenced his attention to detail and the reassurance that was felt knowing that he was there on site to ensure a successful implementation of the automation."
"She always provides a solution when expected. If things cannot have an immediate solution, she always seeks the way to solve and helps others. She is always willing to assist and support us to have the best solutions. She is someone who treats gently and respectfully any of the AMT team members regardless of the origin and grade."
"He is a great part of the AMT team. He always goes above and beyond to try and make sure the work we put out there is done right, and done to the highest degree. He is always willing to make time to help out, whether that's just lending his opinion on a matter, or working through some complex logic. I feel his work in the ASG group is a major part of why our reputation as system integrators continues to shine and grow. He's an all-around great person to work with and that is why I'm choosing to nominate him for this award."
"He represents every aspect of the RISE Core Values. He is a great team member to work with and is understanding on even the most stressful jobs. He works extremely hard on everything he touches to make sure the result meets or exceeds customer expectations. I know I can call him anytime to get a second opinion, dip into his deep knowledge base, or just for a friendly conversation. I have had many customers and fellow engineers tell me how great it is to have him working with them. He is always eager to tackle something new and take on new responsibilities. He's an asset to any team, and a good example of what a great engineer should strive to be."
"I can reach out to him any time with technical questions and he readily answers or points me to someone who could help."
"She is one of the most dedicated people I know. When she is involved in a project, it's heads down, let's get this done. If it takes long hours or weekends to complete, she is there leading the march. She also shows integrity to AMT while dealing with a variety of customers and pleasing them all. She doesn't shy away from hard conversations, but takes these on with respect. If she is on a customer's project, odds are that they will want her on them all."
"She has done a tremendous job managing expectations with customers that are new to automation. Her efforts to manage projects with certainty and customers with respect are first class and represent all of AMT's Core Values. Her creative interests also allow her to apply an AMT-branded approach to all of our marketing videos to demonstrate excellence in reputation and commitment to being part of something great."
"She is honest, excellent with customers and keeping projects on pace with what was quoted."
"He has taken on increased responsibility with the [customer] cybersecurity team. He has arranged monthly meetings to get the group together to discuss topics and issues that they are working on. He is there to support the team whenever questions come up."
"She has worked very hard with my wife and I to choose the right insurance for my family. If she works half as hard with others at AMT, she is going over and above to help. She deserves to be recognized for her hard work. As for my wife and I, we do appreciate everything she does."
PAST YEARS: 2020 RISE Core Value Awards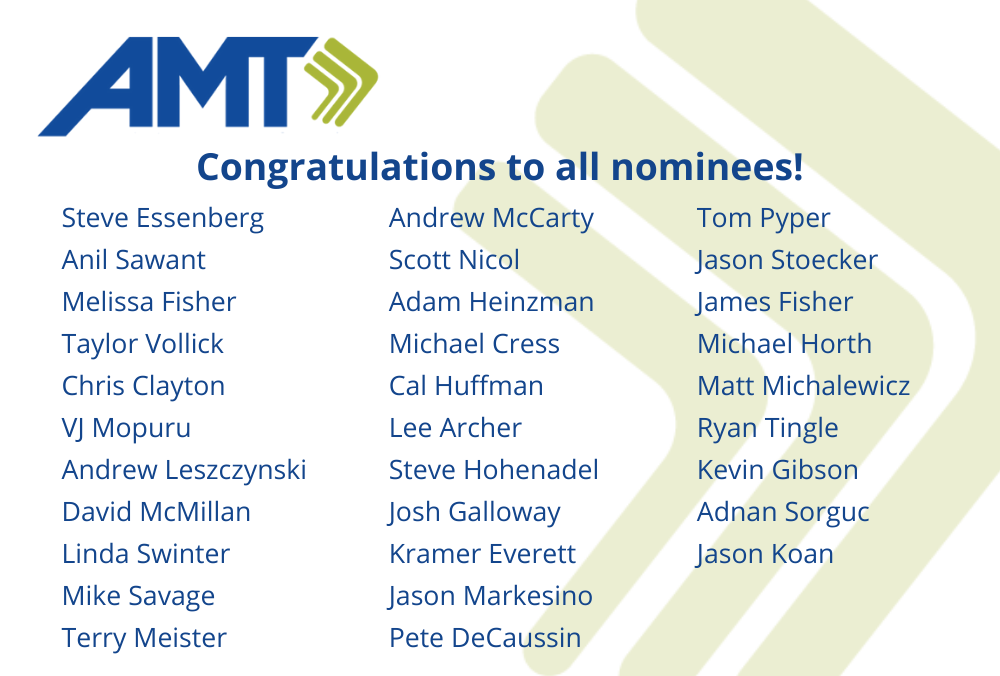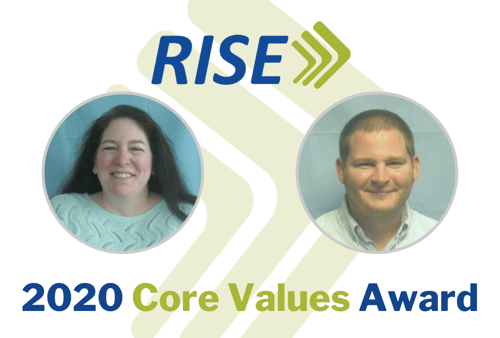 Mike introduced the 2020 RISE Award recipients, Melissa Fisher and Steve Hohenadel at a virtual company meeting, "Congratulations, Melissa and Steve. It's an honor to work with people like you; I'm humbled every day. Thanks to each and every one of you for your support."
Melissa Fisher
Nearly five years ago, Melissa Fisher was hired as a customer support coordinator, but in that time, she has adopted many new roles within the company. Working out of AMT's Orion, Michigan headquarters, Melissa has evolved as the business has grown and changed. Today her primary responsibility is purchasing but she is also the company's safety officer, facilities manager, and shop mom. Melissa has even used downtime to paint various parts the building over the years.
"It wasn't in the nominations, but this year during the pandemic, Melissa went well out of her way to ensure that we have a safe and clean building," said Mike. "She really stepped in and filled in the gaps when we were in the height of the crisis. Melissa was out there; she was sanitizing parts of the building. It makes me proud to work with people like Melissa."
This year, Melissa received a glowing nomination, which touched on all four of the company's core values. "The first person that came to mind for the RISE Award was Melissa. She is not only respectful to all AMT Team Members, but she is also very respectful to our suppliers and customers. Melissa has developed solid relationships with our key suppliers and is a great representative of the company. It is because of her behavior that has allowed us to have some honest and fair negotiations with suppliers that has only strengthened our partnerships."
"Supporting AMT is Melissa's super power. It does not matter if it's the alarm company, the support hotline, building maintenance, late or missing materials, pricing & terms… the list goes on. Melissa was the first one to let me know that 'AMT is special' (her words). I think Melissa is special because she realizes and embraces being part of something great."
Steve Hohenadel
Steve Hohenadel is a senior automation engineer who has been with AMT for nearly seven years. Steve is responsible for the design and implementation of robotic and control system solutions that meet customer specifications. "Congratulations, Steve; well earned!" said Mike. "Steve had five nominations; it's quite impressive! Steve is very deserving of this award."
"Steve is one of the hardest working guys that I know," said Jason Markesino, Engineering Group Leader. "He puts the customer first and is driven to get the job done."
Steve Hohenadel was the only AMT employee to receive five nominations this year. Here is what his peers had to say about him:
"Steve recently became a project lead for some very critical AMT projects. He has fully stepped up to the responsibility. Steve wants to give his best work to the customer, no matter how stressful the situation, and that is exactly what the customer perceives. He is one of AMT's best ambassadors. Steve is on the road most of the time, which is extremely stressful. Steve acknowledges the stress but he works through it, trusting that his management team will support him in every way they can. His loyalty is outshined only by his great smile."
"Steve, to me, exemplifies everything we stand for here at AMT. He always goes above and beyond to make sure the customer is pleased not only with their product, but also with AMT. He has a strong passion for what we do and upholding the reputation of the company. He will always take the time to answer a call and assist no matter the day/time. When I think of the RISE award he instantly comes to mind."
"Steve embodies the AMT Core Values and demonstrates them through his drive and determination. He has taken on multiple difficult projects and been able to complete them and leave the customer happy. He is growing into a new role helping to mentor younger employees by sharing his knowledge with them. Steve not only supports the AMT team, but the customer's team as well. He is not afraid to dig in, research and learn new things to make sure the project is successful and the customer is satisfied."

"I am pleased to nominate Steve this year as he embodies everything that AMT stands for and represents. He is one of the most dedicated and committed engineers that I have had the chance to work with. He fully realizes that he represents AMT on every job and is fully committed to upholding AMT's reputation by his diligence and hard work. Without a question, it is engineers like Steve that have given AMT the reputation that it has and further reinforces that reputation like no other. Customers absolutely love working with Steve because when he is given direction, he goes right to it without question, and always gives 110%."
"In my mind, Steve lives and breathes AMT Core Values and is the perfect example of what this award represents! I think Steve is one of those individuals who is an ideal ambassador for AMT. He demonstrates AMT's ideals for excellence while maintaining strong ties with the customer.
PAST YEARS: 2019 RISE CORE VALUES AWARDS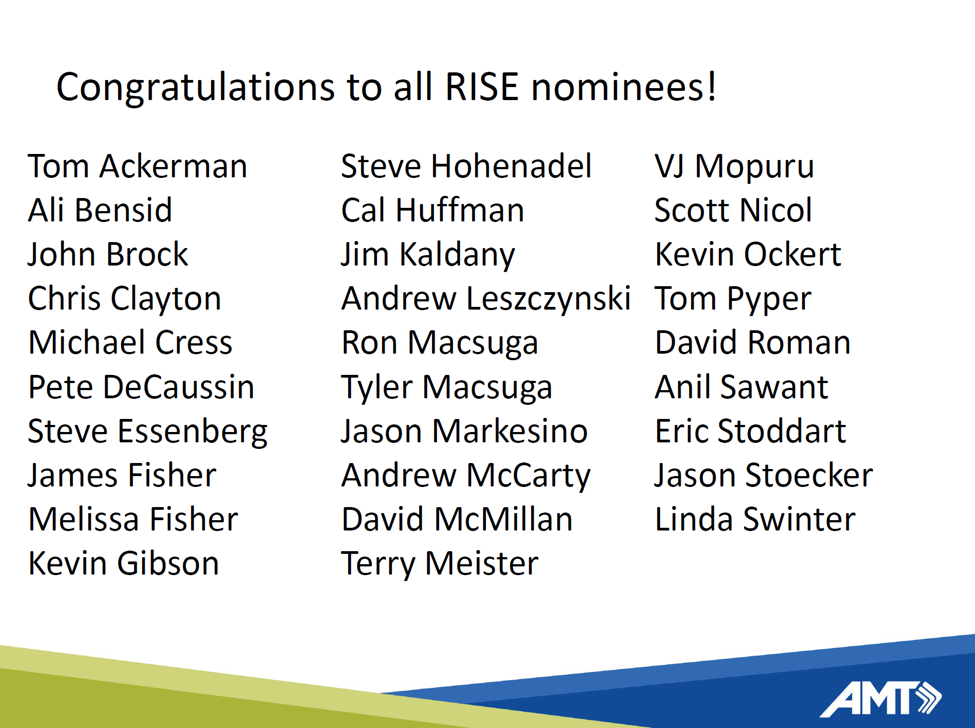 AMT President Mike Jacobs gave a moving speech at the company meeting when announcing the RISE Award recipients. "Our company culture has a strong spirit of mentorship," he said. "Respect, integrity, support, and excellence are traits we consciously nurture for the benefit of all. Please offer a hearty congratulations to this year's recipients, Kevin Ockert and Tyler Macsuga."
Mike asked members of the audience to stand if they had ever been nominated for a RISE Award. He asked people to stand who had previously been an award recipient, or have nominated someone. Mike then asked those to stand who had been positively affected by a RISE Award recipient. "Look around the room," he said. "Every single person in this company has been touched by the RISE Award. Thank you all for your contributions."
Kevin Ockert
Kevin Ockert is a senior automation engineer who was hired by AMT in 2000. Kevin lives in northern Michigan and mainly works offsite, most often at a customer's site in Traverse City, Michigan, or on one of his frequent trips to China. Nominated each year by his supervisor Jason Markesino, Kevin was recognized with a RISE Award this year for his outstanding contributions to the company.
"Kevin is a model employee," said supervisor Jason Markesino. "His dedication to his project earns him the respect of customers, who often request him by name. Kevin makes an impact wherever he goes, and is very honest and straightforward with the customer, even when it is difficult."
"Kevin is willing to do whatever it takes to make the customer successful, and always puts the company's and customer's interests before his own. He works long hours when required and is often away from his family for extended periods of time, either on one of his frequent trips to China, or at customer sites in Michigan."
"Although Kevin isn't in the office often, when he is there, he does a great job of taking care of newer employees through training and mentoring. Kevin also shows excellence in his work. In addition to his great attitude, Kevin is knowledgeable on many different robots, PLC platforms, and hardware and software designs. He is very deserving of the RISE recognition."
Tyler Macsuga
Tyler Macsuga is a controls installation technician who has been with AMT for more than two years. Working mainly out of the company's Orion, MI headquarters, Tyler works from engineering to build with the controls applications. He installs all the components, devices, and raceways to complete the project, and then travels to the customer's site to lead the controls installation.
Tyler was the only AMT employee this year to be nominated by three people. One of the nominations was from his supervisor (and father) Ron Macsuga, "Tyler is a self-starter, a team player, and someone who listens but is not afraid to voice a different opinion yet is not offended if a different direction is taken contrary to their opinion. He doesn't need credit or validation for the work that he does, he just does it and gets self-satisfaction for a job well done and complete."
All three nominations included glowing testimonials to Tyler's work ethic. "Tyler has always stepped up to the plate on all projects that he has been assigned to. Tyler does outstanding work. Completed projects look very impressive from panel build to cell wiring. He also works closely with the Controls Design Group to help make projects even more efficient in the future."
Tyler's third nomination touched on all four of AMT's core values, "You can see the pride in the work he does. He is always willing to learn and always there to take time to help solve a problem or look into a situation and offer suggestions. He's bright, friendly and kind. The type of person AMT needs."
Ron notes that Tyler's core values extend beyond the walls of the AMT facility, "The customers recognize him for his ability to get these projects finished, and in a timely manner. Craftsmanship and timeliness, that's what the customers praise him on. Tyler plans his work and works his plan."