AMT Spotlight: Jacob Pedersen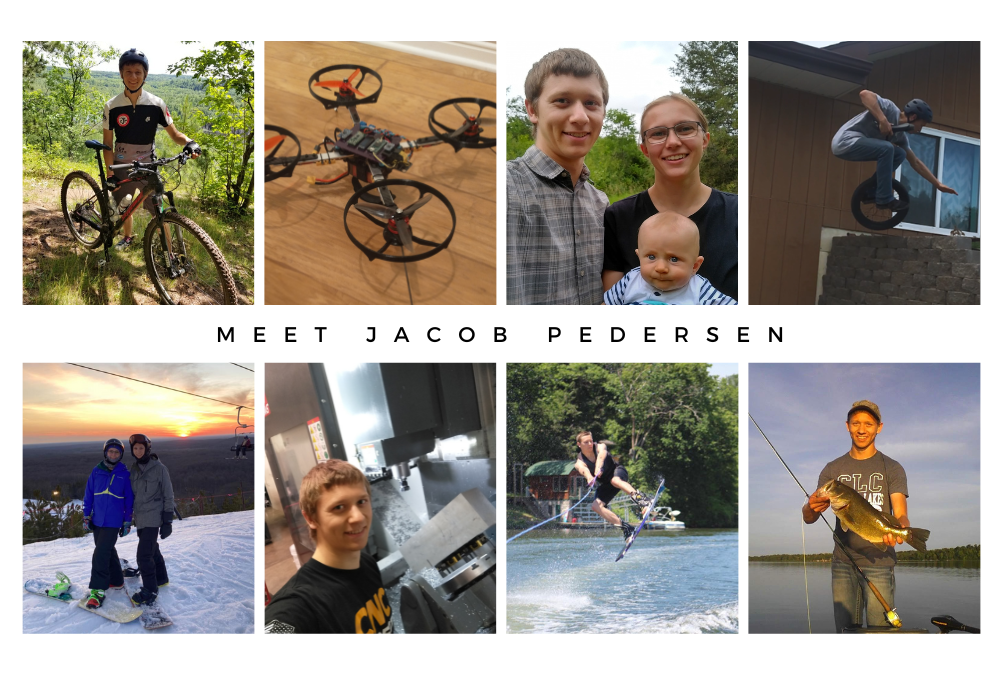 One morning, about a year ago, Jacob Pedersen Googled "automation companies near me" and began driving around knocking on doors. Recognizing his drive and enthusiasm, Jacob was hired a month after he met Director of Systems Engineering Mark McGinnis at AMT's front door.
Now a controls engineer at AMT, Jacob is responsible for writing and testing PLC and robot code for customers' automation projects. He has worked on these elements of several material handling projects, and is currently working on an R&D project for a household product manufacturing company. In this project, the team is integrating several complex linear motor transport systems, requiring those involved to have a clear understanding of physics and servo motion control. One of Jacob's favorite aspects of working at AMT is how the company values investing in their employees. "I am grateful for the opportunities I have already been given here," he said.
"I personally trained Jacob in Common Industrial Protocol (CIP) Motion programming to help me with a very complex motion control application using iTRAK and MagneMotion products from Rockwell Automation," said Director - Controls Engineering AJ Kahler. "Not only was Jacob able to pick up the complex math and physics to add value to the project, but I was also able to completely hand off the project to him. He now owns the project technically as well as the commercial relationship."
As if this weren't enough of a challenge, Jacob also agreed to take on another project at the same time as his CIP Motion project. "He is currently leading the complete software design of an AMT internal fixed cost project and is being mentored by Senior Controls Engineer, VJ Moporu. VJ and the customer have both given Jacob very positive feedback as he continues to exceed technical and commercial expectations."
Jacob was born in Montana and lived in rural Minnesota for most of his childhood. He grew up working in his father's machine shop and on the family farm. Exposed from an early age, Jacob became very experienced with manufacturing equipment and tools by the time he was a teenager, enough so that he completed his Associate's Degree in CNC machining at Central Lakes College while he was still in high school. Jacob then studied electrical engineering at Oakland University and started an internship at AMT in August 2021 while he was completing his final semester. During his time at Oakland University, Jacob gained field experience by working in several local machine shops. Jacob believes that this industry exposure continues to help him daily in his work at AMT. "My experiences and education have opened my eyes to the endless possibilities with automation," he said. "Factories will continue to advance and become more exciting in the future."
Jacob's wife, son, and his extended family, which includes his father and eight siblings, are very special to him. "My wife and son are very important to me and give me an inexcusable reason to get up each day and be the best I can be!" Also in a technical field, Jacob's wife, Lanna, is a mechanical engineer who chose to stay home with Trey, the couple's 6-month-old son. The entire clan misses Jacob's mother, who sadly passed away from cancer a few months ago.
In his hobbies as in his work, Jacob loves to be pushed out of his comfort zone and learn new things. He enjoys many outdoor activities such as mountain biking, wakeboarding, snowboarding, unicycling, and fly fishing. Ever the engineering mind, he also enjoys building and programming remote control cars - and even a quadcopter - which he made with an Arduino flight controller. When not pursuing one of his more active hobbies, Jacob spends much of his time listening to audiobooks on topics like business, psychology, investing, and personal development, which he uses to expand his knowledge. If the reader has a new favorite book, please let Jacob know as he is always looking for recommendations!
A lifelong learner, Jacob has always been invested in improving himself, a trait that has carried over from his childhood working with his family through to his work at AMT. "What I like best about AMT is that the company has been building careers since 1989. AMT chooses to invest the time to train their employees and I am grateful for the opportunities I have been given."
Kahler adds, "Jacob embodies the AMT core values. Every single day he shows respect to everyone he encounters, his integrity is on constant display, he continues to support the AMT team on multiple projects at once while still helping to train his peers, and he continually receives positive feedback from his customers, which strengthens AMT's reputation daily."