Featured in Control Design, AMT Embraces the IIoT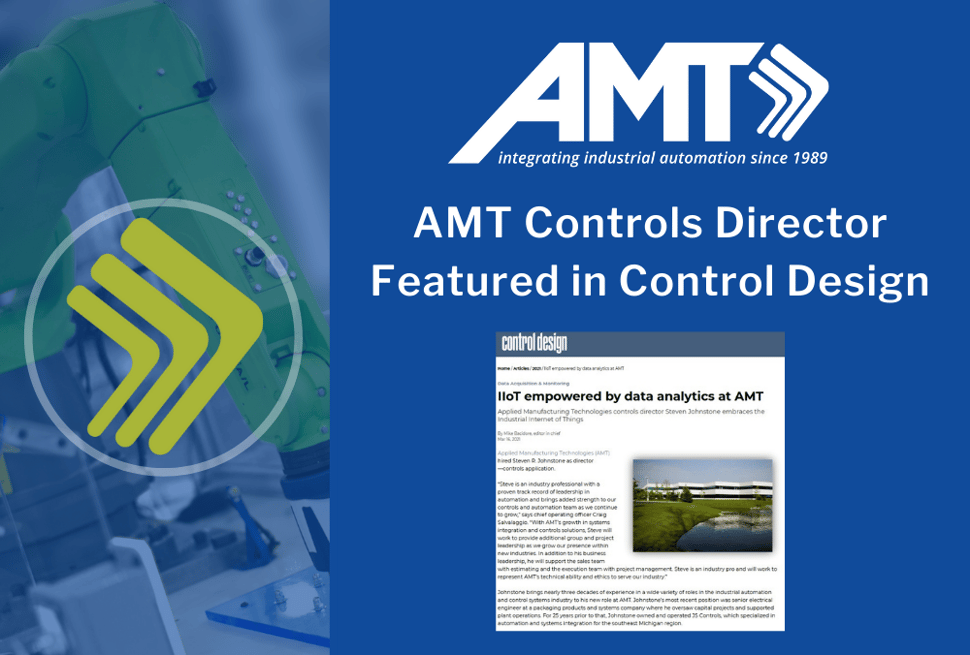 AMT's Director – Controls Application was featured in the March 2021 article "IIoT Empowered by Data Analytics at AMT" by Mike Bacidore of Control Design.
Steve Johnstone was recently interviewed by Mike Bacidore, editor in chief at Control Design, who asked what key things people should know about AMT. "I think what makes us unique is the fact that we have the ability to build full turnkey system automation, as well as providing engineering to support other integrators and OEMs," said Steve. "As one of the largest full-service system integrators in the country, one of AMT's cornerstones is our knowledge and experience in the robotics and controls engineering arena. Our depth of experience allows us to be very flexible in the way that we engage with our customers; we can tailor our deliverables based on the customer's needs, whether that means providing an engineering study for future automation, working with retrofit projects, designing or upgrading control systems, or a fully automated turnkey system for a greenfield site."
Steve believes that machine vision and AI are key enablers for product development. "Faster, more intelligent systems allow us to expand the use of robotics in the manufacturing world, especially with critical upstream and end-of-line palletizing and depalletizing solutions."
The Industrial Internet of Things (IIoT) will have a great impact on business strategy as manufacturers embrace IIoT technologies and upgrade their systems to have connectivity. Once the analytics are set up, manufacturers will be able to diagnose process irregularities and predict machine failure. "The analytics is where all the power of the IIoT comes from, and every company should be looking at this because it has the ability to transform your manufacturing," Steve said.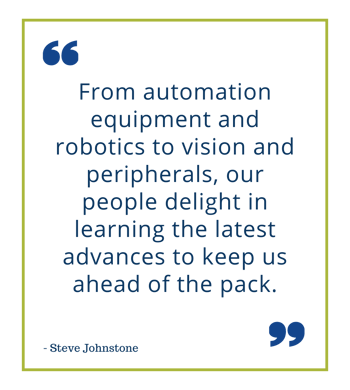 Factory automation has begun to alter how companies staff their operations, a trend which was accelerated by the COVID-19 pandemic. "Since COVID hit, manufacturers are scrambling to automate, not to replace people, but to continue to operate under restrictions and make the workplace safer for employees," said Steve. "Especially now, manufacturers are having a difficult time finding and retaining employees. Many manufacturing environments are set up to have people working shoulder to shoulder, and adding automation can create a safer work environment by spacing them out."
"Automation is a good thing; it does the dull, dirty and dangerous work, and at the same time increases the quality of your product. Automation doesn't eliminate people; it takes technical people to install and maintain the equipment and requires operators to monitor and run the equipment."
New developments in technology enhance the benefits brought by automation and expand the areas where it can be successfully deployed. "New software solutions have most definitely impacted all areas of our business. Normally, system integrators are not on the leading edge of hardware or software development; they take technology that has been developed by others and apply it to industrial automation. AMT is unique in that the company is developing state-of-the-art solutions for some longstanding automation challenges," said Steve.
"One new technology we have had a hand in developing is a decanting solution that allows a robot to unload a pallet full of boxes that are not uniform in size or shape. This is truly revolutionary; in the past, human operators had to unload mixed pallets, which is a slow process and can put the operators at risk for injury. With new vision software, we are able to calculate the dimensions of the boxes on the pallet and tell the robot how to unload them, and sort, pack out, place on a conveyor. This will revolutionize material handling by extending the use of robots into new areas and greatly increase efficiency and throughput for the warehousing and fulfillment industries."
Over the next five years, AMT will continue to adapt the company's offerings with the further development of automation technology. "As a system integrator and provider of engineering services, evolving technology will certainly have an impact at AMT," said Steve. "It will allow us to better serve our customers and help them meet their changing business needs."
"Being on the leading edge of technology rather than following the pack is something I attribute to the extremely high caliber of people who work at AMT. At all levels of the organization, from the folks on the shop floor, our many engineers and our senior management setting the company's course, all are committed to ensuring our reputation for excellence is well-deserved. Our employees embrace technology in a way that I haven't run across in the past. From automation equipment and robotics to vision and peripherals, our people delight in learning the latest advances to keep us ahead of the pack."
Click here to read the full article.