Why You Should Choose AMT for Your EPLAN Electric P8 Controls Design
Some manufacturers are transitioning from AutoCAD to EPLAN; learn more about what EPLAN is, its benefits, and why AMT is the right integrator for your next P8 controls design project.
What is EPLAN Electric P8 Controls Design?
AutoCAD Electrical is a familiar choice for most designers to utilize in the automation controls industry. However, EPLAN Electric is a computer-aided drafting program that has seen a steady increase in recent years as some US manufacturing leaders are mandating its use for electrical and controls.
What are the Benefits of EPLAN?
EPLAN Electric P8 is designed to be a consistent and flexible software that allows for intelligent design and drawing capabilities.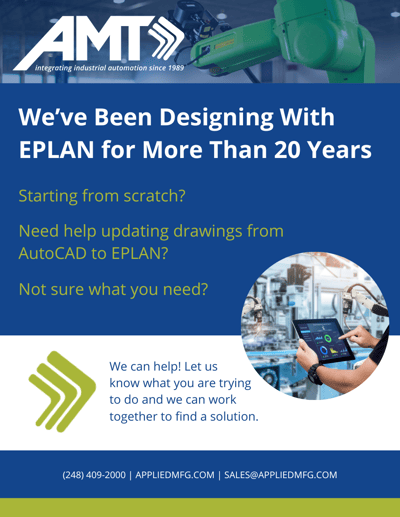 Compared to AutoCAD, EPLAN P8 is a more convenient solution, offering features such as increased ease of running reports like the bill of materials (BOM). EPLAN P8 can help customers improve their productivity and optimize their processes, with the added benefit of being backed by a data portal.
Work with an Integrator with More Than 20 Years of EPLAN Experience
We don't just implement EPLAN industrial controls design projects, we teach it! AMT has been teaching an EPLAN P8 class at a local community college since 2016.
We regularly have dozens of tier-two suppliers and systems integrators turn to us for help with EPLAN controls design. AMT has completed hundreds of electrical designs with this platform for our customers, each of these designs were unique to their project.
To say it simply: we have extensive experience to back our designs.
Starting from scratch?
AMT's designers will work with you to understand your manufacturing process and identify the necessary equipment that you need. We will not only create the design, but also produce the wiring schematics, power supply requirements, electrical panel designs, and safety recommendations.
Need help updating drawings from AutoCAD to EPLAN?
We've got you covered! We've been solving this exact problem for OEMs for years.
Not sure what you need? No problem! If you still have questions as to how AMT is the right integrator for your EPLAN controls design, be sure to reach out. Once we understand what you're trying to accomplish, we can work together and find the best solution.