AGV vs AMR: A Comprehensive Guide to Autonomous Mobile Robots
An Overview of Automated Guided Vehicles (AGVs) and Autonomous Mobile Robots (AMRs) for Manufacturing and Logistics Applications by Senior Application Engineer Marcus Chisholm.
The global AGV/AMR market is projected to be on a steady growth path over the coming years. This increase in demand for Autonomous Mobile Robots (AMRs) can be attributed to many different factors. Their use in manufacturing and logistics applications has increased as a means of helping overcome labor challenges.
Learn more about what other factors have lead to the growth of the market and what considerations you should take to implement this solution by downloading the eBook below.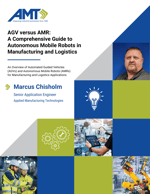 Download eBook