Spotlight on Jason Markesino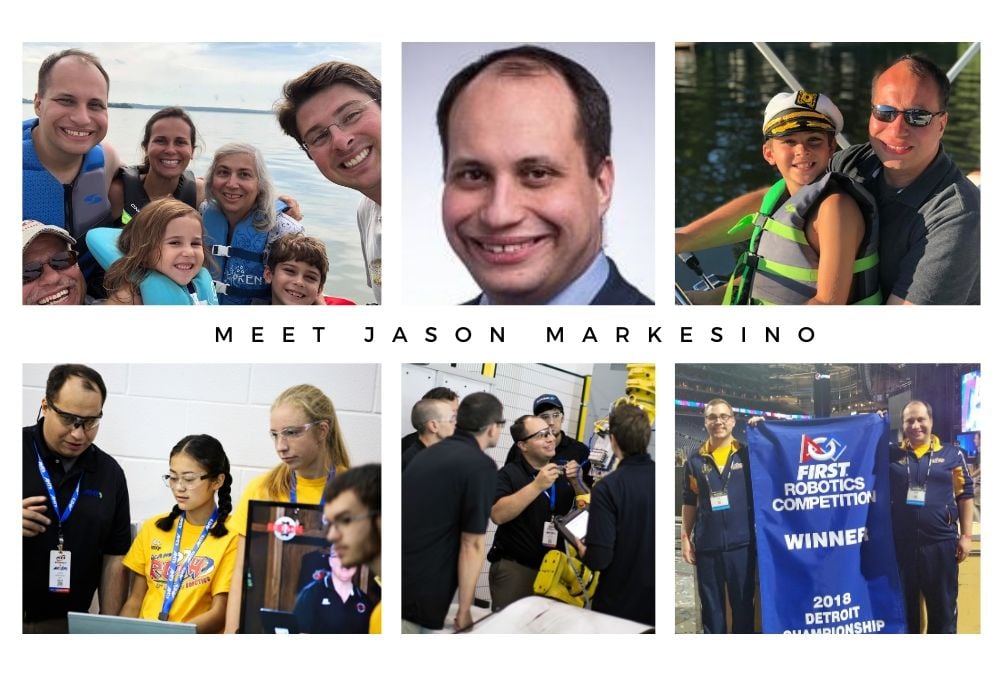 In this newsletter, we are excited to be celebrating longtime employee Jason Markesino. Jason is not only an exceptional contributor at work, we admire his passion for giving back to his community through his volunteer work with STEM programs.
Jason was recently in the news when it was announced he was selected by Plant Engineering as one of the 2019 Engineering Leaders Under 40. "From the start, Jason has demonstrated leadership skills, the ability to learn quickly, and a great work ethic," said Michael Jacobs, president and CEO of AMT. "Jason worked in the field for AMT for several years before taking on the role of lead technical trainer where he created the AMT Automation Academy to train new and existing AMT engineers. In this role, Jason launched the careers of many engineers and continues to mentor them as they advance." For more information on Jason's prestigious award, read this recent article.
Jason's current role is the Engineering Group Leader of the Industrial Automation Group, which is a team comprised of engineers experienced primarily with robot programming, controls, and simulation. "I have been working for AMT since I graduated from college in 2003 - 16 years. I started off as a robot programmer doing mostly automotive work," said Jason. He was then moved to what AMT called the "floater" role, working on short term projects that were both automotive and non-automotive focused.
"In 2012 I moved into the Lead Technical Trainer position where we developed our AMT Automation Academy to bring new employees up to speed with the industry faster. I started in my current role in the beginning of 2018," he said. The Automation Academy is a learning center and lab that is devoted both to onsite training for employees, and custom training classes for industry professionals. "The biggest initiative that I have been involved with has been our AMT Automation Academy. I have developed the majority of the curriculum used, and have conducted the classes since it was started," said Jason.
"My favorite thing about working at AMT is the variety of projects that I get to work on. In any given day I may be programming, training, or providing technical support on different brands of robots and PLCs for a wide variety of customers from multinational corporations to smaller independent integrators," said Jason. "I enjoy getting to meet new people and understand their different perspectives."
A Michigander his whole life, Jason is originally from Waterford, Michigan, and now resides nearby in Highland. He attended Michigan Technological University and graduated with a B.S. in Mechanical Engineering with a focus in Robotics. Outside of his work at AMT, Jason enjoys spending time with his parents in nearby Waterford, and is a proud uncle to his sister's son and daughter who live in Wisconsin.
Jason's teaching and mentoring extend beyond his work life, and he is an active volunteer with local STEM programs. "Outside of work I help to mentor the Clarkston High School Robotics Team - Team RUSH," he said. "I was a member of the FIRST Robotics program in high school and when they moved to Clarkston I followed as a mentor." In 2005, Jason was doing a lot of travel for work, so he wasn't able to devote as much time as he would have liked to the program. "When I took on the Lead Technical Trainer role at AMT, I was traveling less for work so I was able to support the team as the full-time electrical mentor. Being involved with Team RUSH has kept me up to date on technologies such as 3D printing (I have 4 at home) and Arduino microcontroller programming."
When not at work or mentoring students, Jason participates in a few non-STEM hobbies. He recently purchased a pontoon boat and kayaks that he enjoys using when the weather is nice. Jason also has a passion for winemaking, which stems from a long assignment in Upstate New York several years ago when, to pass the time, he began visiting local wineries on the weekends. Jason enjoys making sweeter white wines like Riesling and Moscato. "While I was traveling in Upstate New York, I started getting into wine tasting and have a collection of wines from my travels. I also make wine during the summer that I give as Christmas presents."
In reflecting on the past 16 years at AMT, Jason said, "I have had tremendous opportunities working and learning at AMT. I am thankful for the support and freedom that I have here to expand my knowledge and help customers to solve their problems."
For more about Jason Markesino, read this article about his career, mentoring, and awards.