Our Automation Academy Sets Us Apart
Applied Manufacturing Technology's Automation Academy is the reason our engineers can integrate seamlessly into our customers' teams and operations. AMT career development begins with The Automation Academy's culture of hi-performance and continuous learning. Your career will jump start in our 6,000-square-foot automation lab supported by dedicated engineering specialists focused on developing your skills. Training and mentoring continues throughout your career. At AMT you'll quickly go from being the newbie to the mentor for the next generation. We match each new employee with an AMT mentor and custom training plan to accelerate and strengthen their skill set, which results in a team rich in technical and practical knowledge.

In between assignments, our engineers use The Automation Academy onsite training lab, latest technology, and module based curriculum materials to keep their skills sharp and their knowledge current. We don't do "down time" at AMT – We're always improving, mentoring, learning and growing!
THE AMT AUTOMATION ACADEMY ENSURES STRONG, PRODUCTIVE, CONFIDENT TEAM MEMBERS AND SUCCESSFUL PROJECT OUTCOMES FOR OUR CUSTOMERS BY:
Partnering with leading technological universities to nurture emerging engineers wishing to supplement their education with real-world work experience.
Engaging with Robotics Clubs to guide interested and talented high school students towards automation careers.
Recruiting and locating experienced technical professionals who can transition their experience and knowledge into the AMT engineering team.
Ensuring all of our engineers have been pre-qualified on all of our customer standards and certifications: EX GM GCCH, GCCS, and GRS. In some cases we even teach the curriculum for industry.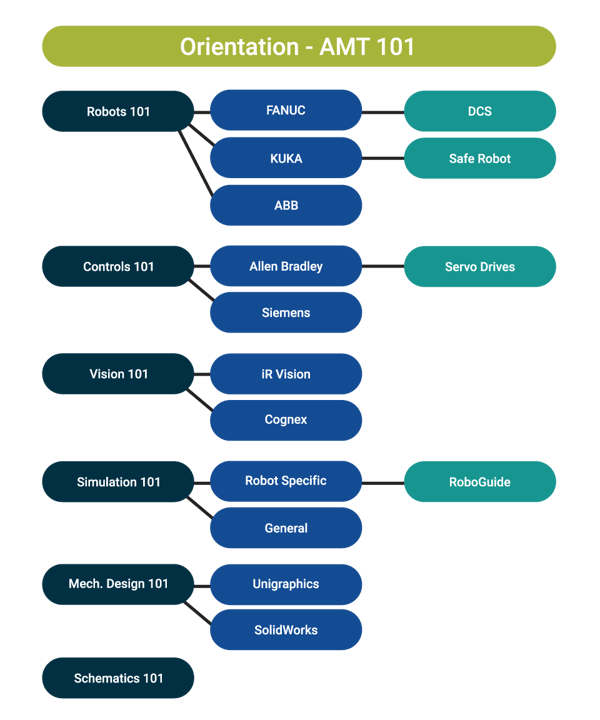 We Don't Offer Jobs, We Build Careers
We're proud to say that AMT has created over 1,000 careers in the automation industry. AMT is a company whose product truly is its people, the most important decisions we will make are who we employ. Our engineers represent us daily – meeting by meeting, phone call by phone call, system by system to the thousands of customers we interact with. We entrust our reputation, and our future, to our team. We are passionate about our work and value a rewarding work environment. We provide excellent compensation, benefits and matched 401k plans.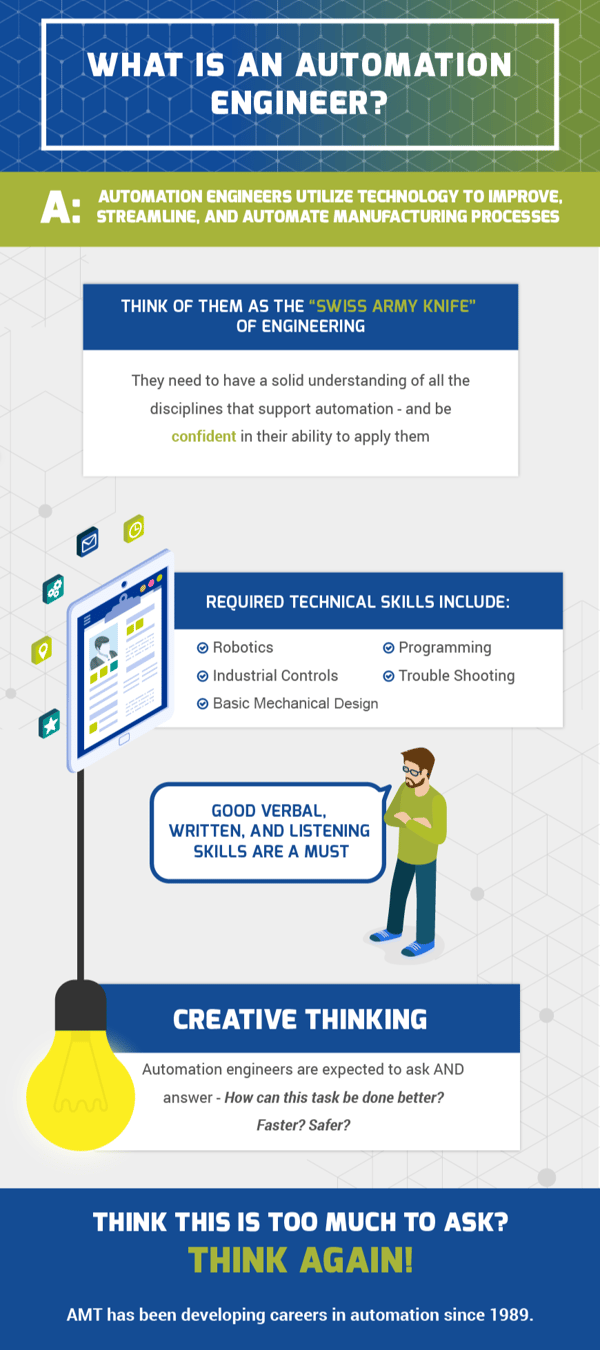 To learn more, check out these articles: Automation Academy graduate Lawrence Nixon Mentors New Hires and Jason Markesino and AMT's Automation Academy Featured in Robotics Tomorrow.