Terry Meister: Collaborative Robot Safety Workshop Download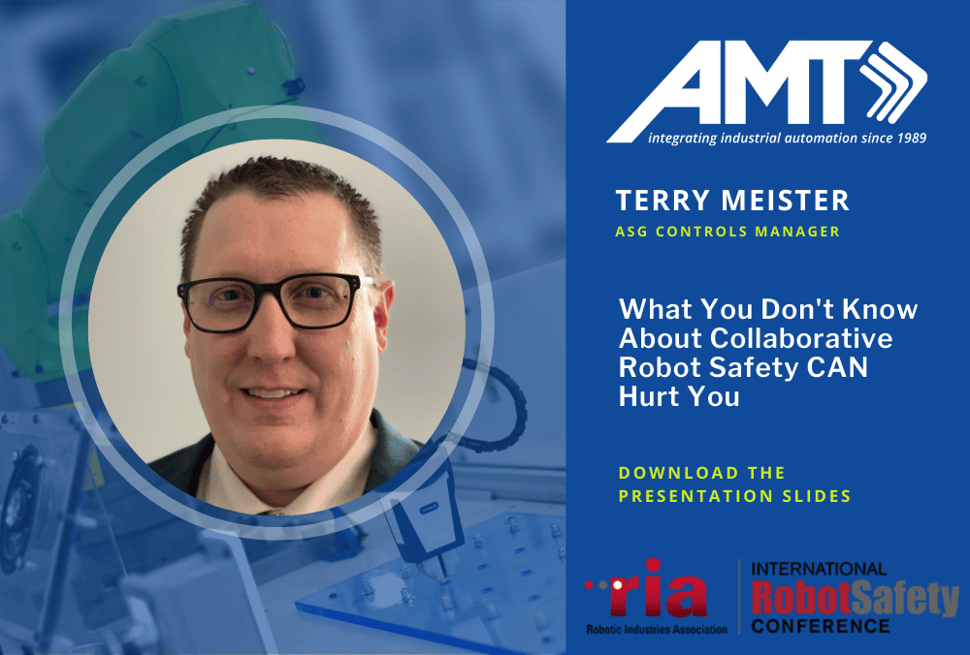 AMT's Terry Meister presented a workshop on collaborative robot safety at the International Robot Safety Conference sponsored by the Robotic Industries Association (RIA). Download the presentation slides.
The 90-minute workshop presented an overview of collaborative robots and risk assessments, and discussed the correct and incorrect applications for collaborative robots. Examples include Kuka, FANUC, and Universal Robots with traditional robots in collaborative modes and collaborative robots with secondary safeties. AMT engineers walked attendees through collaborative applications the company has designed and installed, and then assigned a project for teams to work on.
To download the presentation slides, click below.
Original Venue
Workshop: What You Don't Know About Collaborative Robot Safety CAN Hurt You
Event: International Robot Safety Conference hosted by RIA
Date: Workshop – Thursday, October 17, 2019 from 8:00 – 9:30 AM
Exhibit hall – Wednesday, October 16, 2019 from noon – 7:00 PM
Location: JW Marriott, Indianapolis, IN
Registration: Register here