AMT Provides Safety System for Large Aerospace OEM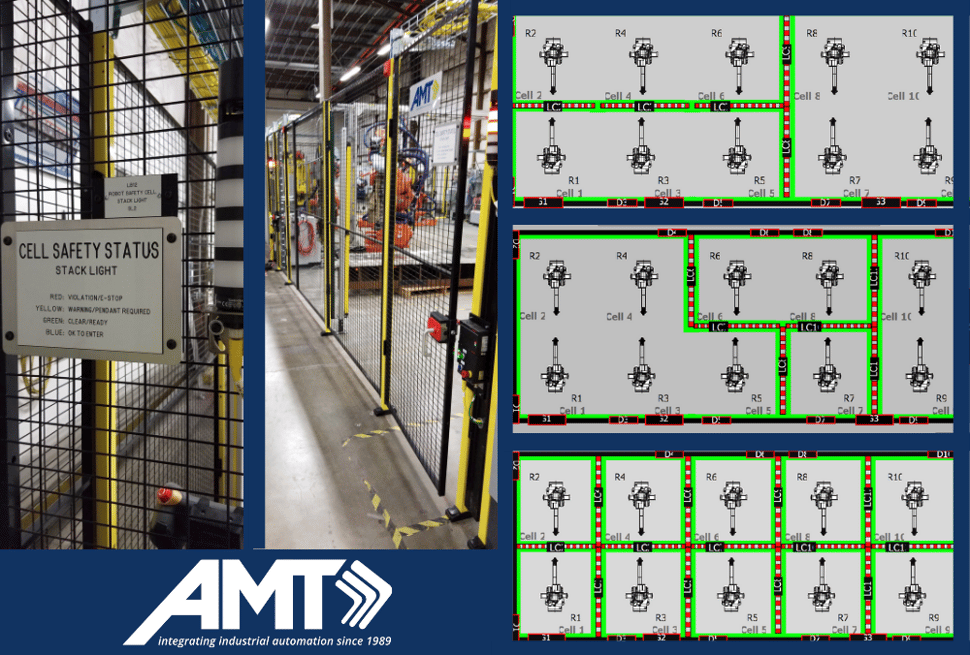 Case study by Senior Program Manager John Brock and Controls Engineer Matt Babich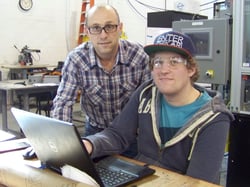 A large aerospace OEM asked AMT to design a safety system for an existing open 5-by-2 robot cell array.
AMT provided a unique safety solution with a customizable configuration which allow the ten individual cells to be grouped in any combination using only a touchscreen interface.
Since 1989, AMT has strived to provide its customers with automated systems that combine functionality, efficiency, and most importantly safety. Through collaborative efforts both with customers and within our team, we are able to construct ideal solutions that not only fit our customers' automation requirements, but also help us to build lasting relationships with customers and a reputation for reliability. Our most recent noteworthy project involved a robot safety cell with a unique customizable configuration feature, which allows ten individual cells to be grouped in any combination using only a touchscreen interface. This capability is unique in the industry and allows for valuable flexibility to accommodate a wide range of workspace requirements. Despite encountering many challenges along the way, AMT was able to provide a safe yet flexible system that is sure to leave a lasting impression.
Problem
In mid-2018, a well-known aerospace company tasked AMT with designing a safety system at a test facility. Their current arrangement was an open environment with multiple robots performing tasks without any kind of safety guarding in place to control human access to operating workspaces. The shop personnel relied on the built-in robot e-stops and teach pendants for all safety functions, with no safety PLC monitoring or physical boundaries for individual workspaces. There is a wide range of part sizes in production in this area, some spanning the entire length of the 5-by-2 cell arrangement, where the robots would sometimes be working on multiple smaller individual parts or at other times working jointly on larger assemblies. Any installation of safety equipment needed to be able to accommodate this range of processing. The customer's request was for a configurable layout that would allow any combination of 10 robot cells to function together, which equates to more than 200 possible combinations of workspace areas.
Solution
AMT's first step was to assess the facility in order to highlight the steps necessary to make the upgrade a success. First, a field check was performed to document the dimensions of the workspace and identify any potential obstructions. Next, our team inspected the electrical wiring of the robot controllers to rule out any possible complications caused by modifications or other issues. After the physical assessment, we sat down with the customer to get a better idea of how the facility was used, the different tasks their robots typically perform, and what expectations they had. By engaging the customer directly in the design, we are able to ensure that the delivered system will not only meet their functional needs, but also address the qualitative desires for how the system will operate. The proposed solution was a single system with a perimeter fence around all 10 workspaces, with individual robot cells separated internally by light curtains. Entry doors were added to the perimeter fence for each of the ten robot areas, equipped with a Euchner multifunctional gate box as the locking mechanism, and three additional material access gates for parts too big to fit through the doors.
This system was comprised of one FANUC and eight ABB existing robots, as well as a designated space to accommodate one future robot. The various robot models are designed to use EthernetIP communication protocol. However, the safety PLC is a Siemens device which is connected using protocol known as "Profinet." The solution was to use an Ethernet-to-Profinet adapter, which came in the form of an Anybus module. Once configured, the Anybus module allowed for seamless communication between the networks. This was tested on a variety of robot types, including the ABB and Fanuc models in this system.

The next challenge was to develop a program to be loaded on to the Siemens S7-1500 safety processor that could monitor the safety devices and control the cell combination functionality. This was no small task; the complexity of a program that would store every possible combination would take far too long to create and maintain. Instead, it was decided that each cell would only "look at" the cells surrounding it, passing its status to each border cell when it was grouped to other cells. This allowed for the sharing of safety information and entry requests to each cell in a group. We then developed a visual interface based on the customer's HMI standard which displays the current configuration of the system while also incorporating grouping functions that allow the user to see the configuration changes in real time. The end result displayed both the physical layout of the system and its active configuration, with each cell represented by a colored border that showed the state of the cell (i.e. faulted, in auto, warning, request to enter) and light curtain separations. The interactive display allowed a user to enable cell grouping and then tap the cells that were to be grouped, which causes the light curtain indicators to disappear and the colored borders to join to create a visual representation of the grouped area.
Installation was set to take place over the course of a month in early 2019. However, the team was able to condense this into three weeks due to our ability to plan ahead for resolutions to potential onsite challenges. Upon completion of on-site debug, we began our safety testing. AMT carefully tests each safety function before shipping and after installation to ensure that every e-stop device is functioning properly, and to verify that the program will respond as it should. This particular project made testing a bit more complicated due to the number of configuration possibilities. After each individual cell safety was tested, we then tested the integration of safety signals between cells and full safety verification of grouping configurations.
Results
The end result left the customer very impressed, with shop personnel eager to test the cell grouping functions. This project required a great deal of collaboration among the team, and through rigorous testing and discussion, we were able to create a solution that surpassed the customer's expectations in many ways. Although the customizable configuration steals the show, so to speak, our first priority throughout development of this system was safety. We are proud to have offered a solution that not only fit the customer's requirements, but vastly improved the safety of their system, allowing shop personnel to do their jobs with a significantly lower risk of injuries. This project also allowed us to demonstrate our dedication to providing excellence and efficiency. The AMT team's attention to detail during install, as well as our collective ability to quickly troubleshoot any issue we encountered in the field, allowed us to completely install and integrate the system in little more than half the time originally quoted. AMT is pleased to have had the opportunity to bring this concept to reality. The process of building this system served as an excellent learning experience to everyone involved and helped to build an even stronger foundation of teamwork and problem solving for our entire organization.