AMT Announces 2022 Core Values Award Recipients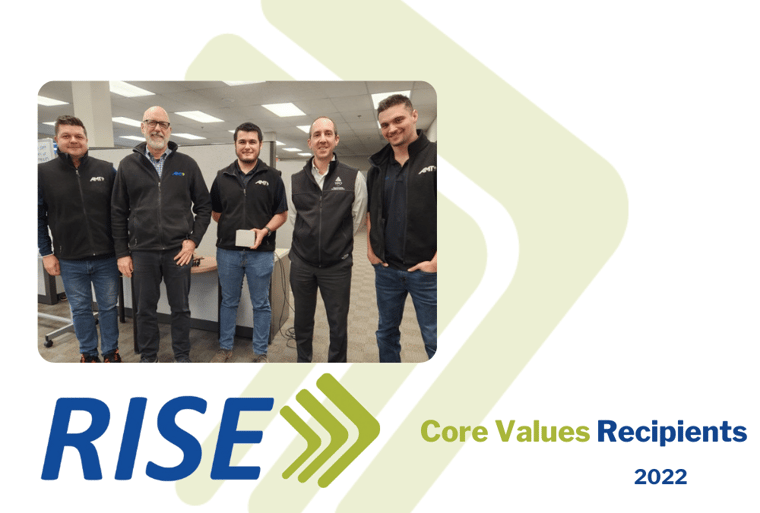 Congratulations to 2022 RISE Award recipients Dan Ivan and Chris Gomez!
Since 2004, Applied Manufacturing Technologies has recognized two employees each year as embodying the company's core values of respect, integrity, support and excellence. Employees are nominated anonymously by their peers and the management team meets for the difficult task of selecting just two recipients for the award.
The RISE Awards were created to recognize the exemplary actions of AMT's engineers, sales persons, technicians, and back-office staff; executives and engineering managers are not eligible.
AMT's core values are the characteristics that define what the company stands for. It is these values that form the basis for our operations and the decisions that are made at our company. AMT's core values are:
R - Respect for the Individual – We're all unique and each of us has something valuable to contribute. We not only recognize that, we wholeheartedly embrace it.
I - Integrity – We are stand-up men and women. We say what we do and do what we say.
S - Supports the AMT Team – We enjoy working as a team, supporting one another, getting more done by using our combined energy.
E - Excellence in Reputation – A part of something special – not every company is like AMT and we like it that way. We're proud of who we are.
President Mike Jacobs encourages employees to submit their nominations each year, "It is a great opportunity to recognize someone who has gone the extra mile for AMT employees or our customers, and consistently displays our core values."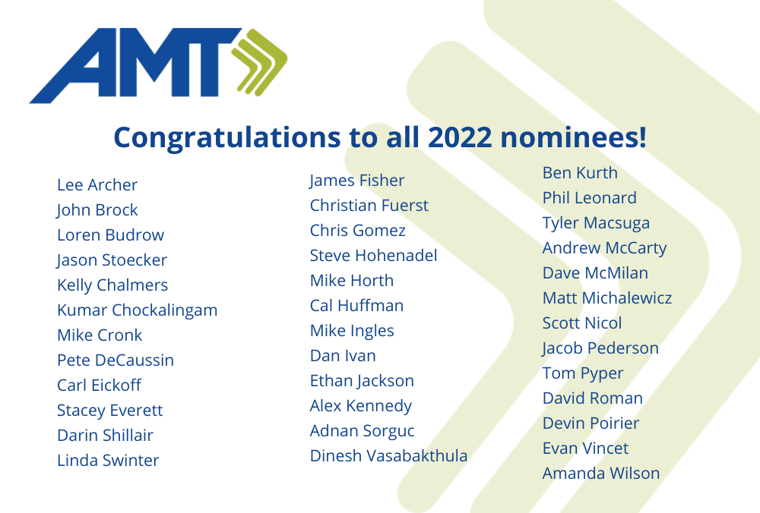 The 2022 RISE Award recipients are Dan Ivan, Controls Hardware Lead Engineer and Chris Gomez, Automation Engineer 1. "I know that we truly are a part of something special, because we work with men and women of integrity that respect every individual and gladly support their AMT team," said Jacobs. "I well up with pride during this meeting every year. It's almost dream-like to hear that this is truly who our company is."
Dan Ivan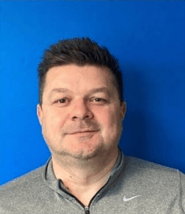 Dan's teammates had some glowing reviews about working with him. All quotes were submitted anonymously.
"Dan Ivan is always ready to help - sometimes even before he is asked. He pitches in and does so with a smile on his face."

"Dan was promoted to become a leader in 2022 and by exhibiting all AMT's core values he has successfully lived up to being a leader - the AMT way!"
Chris Gomez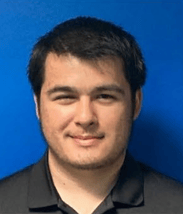 Within his first year as an AMT Automation Academy graduate, Chris has stepped up to become a leader: he led the team on a project with AMT's largest service customer and has become indispensable to the customer and the project. He has earned the respect of the individuals on his team and has encouraged and mentored a number of new hires on the team.
Chris goes above and beyond for everyone on his team. He is always the first to show up and the last to leave and is the perfect example of a leader, he should be a role model for all AMT team members. Chris takes care of the AMT programmers as well as the other contractors.
He truly embodies the AMT core values: he's respectful to all around him, unrivaled in gumption and natural ability to lead, confronting stressful situations with a smile on his face, always acts with integrity, on top of providing top-notch engineering knowledge and talent for customers.
Here are a couple of anonymous quotes about Chris:

"Chris is doing an awesome job leading our ATS Ohio team. He answers every phone call regardless of what hour it is and makes sure we're continuing our progression on each project fluently."
"Chris Gomez is an absolute Core Value rock star!"
Meet the 2022 RISE Core Values Award Nominees
The management team was once again impressed with the plentiful nominations, and several employees received multiple nominations. The testimonials below are especially touching when remembering that the nominee does not know who wrote them.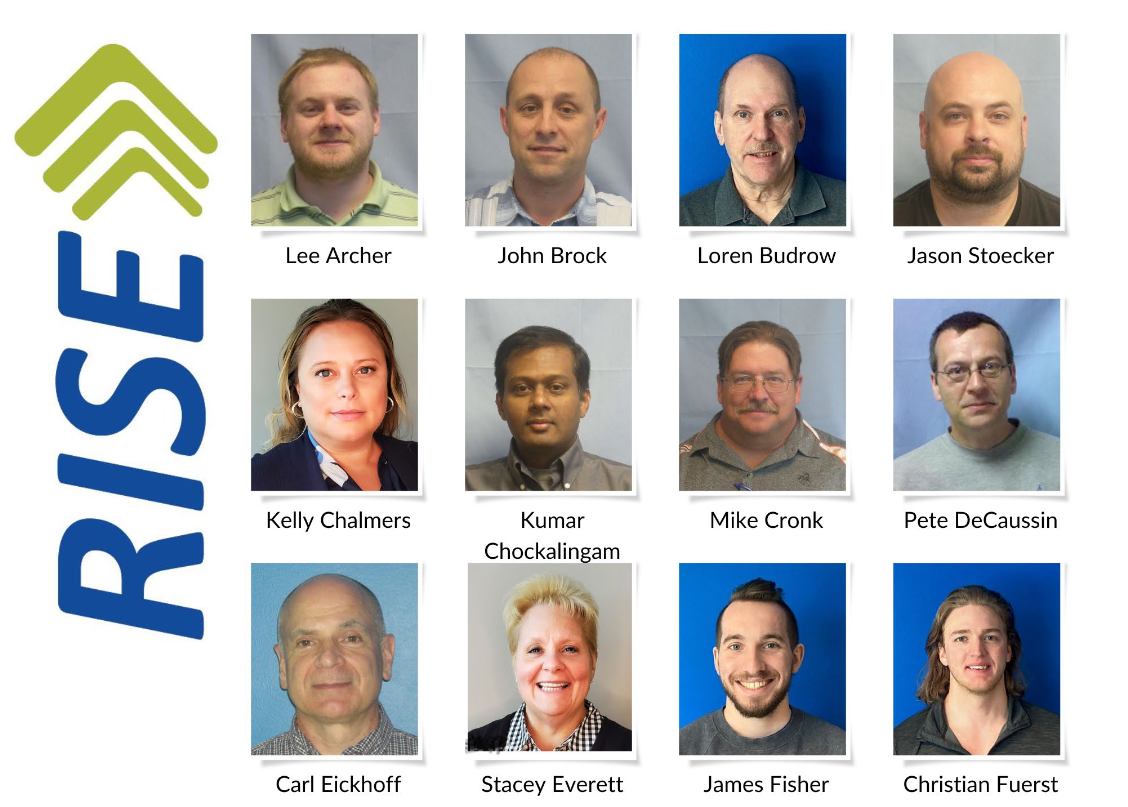 Anonymous Nominations
"He is always open to help, even remotely and if he doesn't have an answer, he will help you out to find one."
"He is always thinking five steps ahead. He wants the outcome of his projects to be nothing less than excellent. He approaches the challenges of his job with professionalism. He does not give up until he has a solution to the challenge that stands in front of him. When dealing with project management, there can be a few, all at the same time. I appreciate his efforts, his integrity, and his positive attitude."
"He is always cheerful and helpful. He seems to jump in on projects where ever needed and helps out on the floor with builds - always with a smile."
"In every customer interaction I've had where She has been the PM, I've heard nothing but compliments from the end user. I've lost count of how many times I've heard customers say "I need someone just like her".
"He is great to work with, always positive and willing to take on any challenge. He is very knowledgeable, always supportive, and readily shares his knowledge, regardless of what ever else is on his plate. He provides excellence in all his leadership and technical roles and responsibilities."
"He stands very tall in all components of RISE. I have worked with him on a couple different projects. It's been a pleasure to work with someone with such a high integrity. He has always been very helpful when asked for help. I feel like a family when around him. He also stand up against bad behavior when becomes necessary. I can't find what he might be lacking in any way. He is a great mentor. He has great respect for others regardless of whom they might be. I wish there were a whole bunch more people like him in this country."
"He is the go-to guy for just about everything. His experience and knowledge of all things in the shop and the building are truly great and much appreciated."
"He may be a quiet, heads down engineer, but he still shines when it comes to our Core Values. He has worked through some of our most difficult projects, while training younger engineers in their careers. His patience when dealing with peers and customers is shown daily. Even if he is busy, he is happy to go the extra mile to help you."
"Quick to help out and get answers to questions. She has a friendly smile with each person she greets!"
"Although she has just recently started hereat AMT, she immediately fits with the company and our core values. She is respectful and works to engage with everyone here, she stops in her busy day to say hello and always brings a smile. She readily supports the team with any requests and support needed from supplying customer lunches to coordinating schedules and many more important tasks that enable AMT to operate more efficiently. Thank you, for everything you do."
"Good worker and willing to give a hand where needed!"
"One of AMT's hardest workers, he has been part of the Shops Assembly Team going on 5 years now. In that time, he has been an asset from the start. He learns quickly and it shows as the cells he works on come together. His discipline of Doing things Right adds Extra Quality to the end AMT product. He is quick to add input on a fix or problem area that may require extra attention. He also has the foresight to see into some situation solutions that may cause other errors and or problems. He has been an asset since the day he started!"
"He always displays a respectful tone and demeanor in all interactions I have ever seen; no matter how the conversation direction changes. His work speaks for itself, he executes projects with integrity in that he is communicating changes and working to ensure all parties are informed. I have seen him training continuously new members of the team and always makes time for me when I have questions."
"He continues over the years to be an amazing representation of all the Core Values. His mentorship of younger engineers is a daily activity for him. His kindness and patience, no matter the pressure is amazing. He supports the ASG team with their software and robotics standards, adding immense value from his years of experience on the customer's floor. If he doesn't know, he will figure it out. His excellence in his field makes any customers he interacts with, lifelong customers."
"Very knowledgeable in his job, and goes the extra step with customers and projects."
"He is keeping a very positive attitude in a very difficult always changing project. He speaks very well of the team of people he is working with and is always working to bring the less experienced team members up to the challenge of the project. When he says he will get you something that is needed for a project he makes sure you get it even when things make it so he cannot do it himself."
"Always willing to teach and help others understand. Is always willing to help over the phone."
"He came to AMT with almost no knowledge of automation. Within 12 months of learning PLC and Robot programming, he has been out supporting one of AMT's best customers. The customer has raved about his willingness to jump in and support projects and his positive attitude. It was specifically mentioned that he gets along with the toughest personalities. He shows constant respect to AMT employees and customers. He always does what he says he is going to do and goes above and beyond to support his AMT teammates as well as his customer team. He has received constant positive feedback from the customer which only continues to grow AMT's positive reputation."
"He is an excellent representative of AMT and our Core Values. He has created networks with new employees outside of work helping to create strong relationships. He has led a team on a project and has mentored multiple individuals on projects. Customers love him and his calm/cool nature. Good listener, always help."
"He exceeds all the core values. His actions and his words demonstrate that he cares about the customer, his colleagues and the company, AMT. He has a demanding job which he handles professionally at all times, and he is a great mentor."
"He demonstrates all the core values each day. He steps up to help with no questions asked. He repeatedly impresses AMT customers. In fact, it is not unusual for customers to request his services longer than originally planned. When it comes to mentorship, he never hesitates to share his knowledge with less experienced engineers. He is a help to his team members, his supervisors, and to employees who are outside of his direct group. He is a great colleague, and one AMT can count on to represent our company with five out or five stars."
"He is a pleasure to see around the office. Always smiles and welcomes new people to the industry every time he's back in the office. He demonstrates excellence in reputation supporting all of our academy classmates and customers. His potential is endless, and he represents all of our Core Values on a daily basis."
"He has been such an amazing mentor for any new hires coming into the automation engineering role. He respects everybody by truly listening to team members and customers when they have to say something. He displays integrity by carrying himself professionally in the world place and making sure the job gets done to more than the best of his abilities. He supports the team by offering to keep everybody connected inside and outside of work because he knows it's important for the growth of the company. He also shows an excellence in reputation by always putting others before himself. Overall, he is such a great example of what anybody should look up as a leader and a team member. When I heard about this award, he's the first person that came to mind without hesitation."
"He has been not only a great counterpart on consulting projects, but he's also been a great mentor to me over the past few years as well. I've learned a lot from his experience of "being the old guy who's been installing robots since 1985" as he likes to put it."
"I think he has a great future at AMT. He always seems to want to learn, and he's spending a lot of time on the shop floor helping with builds. He asks good questions which will help make him a better engineer."
"He is very hard-working and supportive. His enthusiasm for the job comes through in all he does. He has a positive attitude that makes him a pleasure to work with, and I can always rely on his help."
"Since he joined the Applications team last year, his work ethic, experience, and technical and real-world knowledge made an immediate impact. He has a crazy ability to turn around quote responses and proposals with creative and feasible solutions in some very small windows of time. His previous experience in concepting, estimating, proposing, planning, designing, building, debugging, and installing full turnkey projects has been an invaluable resource for the Sales and Applications teams and the rest of AMT."
"The point is that he has been an all-star since he came back to AMT and we're lucky to have him."
"He demonstrates respect and integrity in everything that he touches. From our initial introduction in the lobby conference room over 10 years ago, he's relentlessly strived to be better than he was the day before. He has a bias for action, a growth mindset, and pride of workmanship that carries into his daily work output and is seen with every internal and external customer interaction. Serving many roles over the years at AMT, he's held them all with attention to our Core Values. He will continue to be a role model for many of us over the years to come."
"He is a great teacher and always lends a helping hand."
"He is a one-man wiring machine. He has the responsibility of wiring every system that is created in our facilities. He has the responsibility of being the "Lead Electrician" on every installation of these systems. He works with the engineering team to solve any "gaps" in the initial system design. In my opinion, he handles all of this responsibility and pressure with grace and understanding."
"He supports the team in many ways. He was willing to work on projects at night while still supporting customers and other employees during the day. He is willing to share his skills with others by answering questions and mentoring. He has taken multiple newer employees under his wing teaching them simulation. He takes an interest in other team members and helps them to succeed."
"He is a great team player with a keen willingness to help the project and teammates. His professional approach and experience are an asset to the team. He details the design to all team members involved until all their doubts are clarified. Also, he pulls off a drastic design change though it would be tough to implement when a need arises. I am happy to nominate him for this award as he very much fits the spirit of this accolade."
"He is always available when I need to tap into his Kuka expertise and is incredibly patient."
"He continues to support the team by training and mentoring newer hires on their first assignments. He is always willing to help out and pass his knowledge down to others. He has also dug into new topics like Robot Studio and has impressed customers ensuring our excellence in reputation."
"He was a huge help in assisting me with one of my first ABB robot projects. Along with getting the robots programed & ready for the customer, he encouraged me to program the robots alongside him and was very patient & concise whenever I had questions. Great guy to work alongside."
"He has helped to ensure AMT's excellent reputation throughout the industry. He takes an interest in all of the team members and tries to do what is right for both the employee and the customer. He is tenacious in forming and preserving customer relationships giving the team opportunities to grow their careers."
"He provides a true example of support and reputation through his day-to-day customer and project team interactions. He listens to our customer needs and balances this with our project execution needs. When called upon, he has a bias for action to ensure the team's success doing whatever it takes and traveling wherever is needed. He is a professional role model for AMT, a pleasure to work with, and is respected by our entire team."
"He is always willing to take on any challenge. From a brand new project using skill sets he's unfamiliar with, to something he knows like the back of his hand, he is going to get it done. Not only does he excel in taking on new tasks quickly, but he also he very good about sharing his knowledge. If you ever have a question, whether he knows the answer or not, he will work with you to figure it out and learn together. He's very respectful to everyone, easy to work with and get along with, and always displays excellence in the field when dealing with customers. For being so young, he is stepping into a great role in his position and taking every chance he can to grow and become an amazing engineer."
"Always willing to help a team member. Great Leadership for the newer AMT members when a teaching moment is needed. Willing to tackle new challenges."
"He is a great team member and somebody who is an excellent representative of AMT and the culture we strive for here. He is always willing to jump right into whatever is needed at the time; whether that is helping out his teammates, learning new technologies, or going above and beyond to make sure out customers are satisfied."
"He has been training me for the last few months and has taught me a lot about being a PLC programmer. He has also been helping at improving my communication skills. I often have trouble being clear and precise. I'm still working on it, but he has set a great example of being an AMT engineer."
"He always want to be sure we follow a professional and standardized code. Always willing to help and discuss ideas."
"He supports the whole team as he works throughout the day in the shop, assisting others, doing multiple task most of the day, unloading, loading trucks, building the next piece of, welding up a hot weldment. It doesn't matter he will and does it all so don't get in the way as there is always the next hot project being planned for that bare spot on the floor!"
"She takes the extra time and care to make sure time sheets and expense reports are correct and creates connections with each employee. She supports the team and helps in any way she can."
"Day in and day out, she attends to the tiny details that keep the back office running. She processes over 5000 expense reports a year. I understand she has never lost a single one in 24 years. That is an impressive stat. Her attention to detail is greatly appreciated. She always responds quickly to all my questions so I can do my job better."
"He knocks all the core values out of the ballpark. His positive attitude rubs off on everyone. He steps up to any task placed before him and can be counted on as a great mentor. He takes pride in his work and it shows."
"He displays respect for the individual through great patience with helping out AMT's new hires, and he goes above and beyond with supporting the team and making sure whomever he is helping understand the material that is being discussed. He also exemplifies integrity by not just spoon-feeding the new hires the answers to their problems and by making them solve the problems with their own knowledge and skills."
Congratulations to the recipients and all nominees!
LEARN MORE ABOUT PAST NOMINATIONS AND RECIPIENTS HERE: