Automated Case Handling Videos Showcase New Technology
Our two newest videos showcase the latest developments in technology for robotic palletizing and decanting in automated case handling operations.
Robotic Layer Forming for Palletizing

This video shows a FANUC M710iC/50 robot handling cases to form layers at downstream conveyor operations. The cases are manipulated quickly, shifted and rotated as the line transfers with robot line tracking, completed in less than 1.5 seconds per case. Upstream 2D iRvision equipment identifies the infeed case condition and the robot calculates the desired layer form position. The robot servo end-of-arm-tooling (EOAT) can accommodate a range of case sizes. The servo gripper dynamically adjusts to handle variations in case sizes so they can be shifted into positions that will build patterns for palletizing at the downstream conveyor.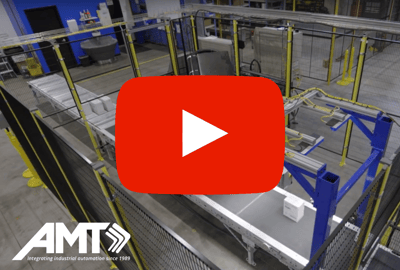 Robotic Tray Unloading for Decanting
This video shows a decanting operation with a FANUC M710iC/70 robot handling cases picked from tray patterns and loaded to an outgoing conveyor. FANUC 3DV vision equipment identifies box locations and the robot calculates the desired pick grouping to maximize the number of cases handled but also avoid interferences. The robot vacuum end-of-arm-tooling (EOAT) can accommodate cases in a range of sizes and orientations. The automated case handling robotic tray unload decant system has two parallel lanes of incoming product which increases the efficiency of the automation. The FANUC 3DV vision system is capable of handling cases within a large range of size and color.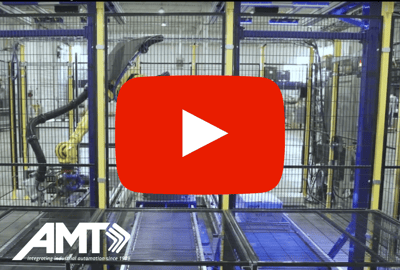 Check out our handy palletizing / depalletizing resource, which includes definitions, articles, case studies, videos, and more.

Do you have a project you would like to discuss? Please contact us.