Material Handling Videos: Ingot Stacking, Palletizing, and Labeling
Our newest YouTube videos highlight AMT's advanced knowledge in palletizing, ingot stacking, material handling, and more in recent successful projects.
Ingot Stacking and Palletizing
AMT Ingot Stacking with FANUC M-410iC/165 Palletizing Robot, Allen Bradley PLC and HMI controls
The AMT Systems Integration team provided the design, build, integration, and installation of a robotic automation system with FANUC M-410iC/165 palletizing robot, with Allen Bradley PLC and HMI controls. This system replaces a workflow where an operator manually lifted and re-positioned heavy, hot (600 degree Fahrenheit) reclaimed aluminum ingots. The process now uses automation, providing quality inspection and robotic stacking / palletizing. Watch the compelling before and after transformation of the once "dirty, difficult, and dangerous" job and witness the many benefits of automation, including reducing manual labor in extreme environmental conditions.
The original process:

Click on the video below to watch this process which repurposes reclaimed aluminum from a salvage yard, melts it, forms it, and organizes it into precise arrangements, demonstrating AMT's expertise in palletizing and ingot stacking.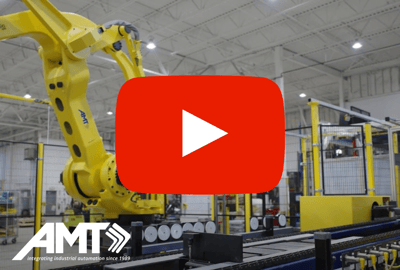 Check out our handy palletizing / depalletizing resource, which includes definitions, articles, case studies, videos, and more.

Material Handling and Labeling
FANUC CRX Collaborative Robot Material Handling Application
This project showcases a material handling and labeling system with a FANUC CRX collaborative robot. Utilizing robotics, conveyors, automatic labeling, and custom tooling, this system processes, organizes, and marks the end user's eCommerce totes.

Matt Rutigliano, a National Project Engineering Manager with this client, Rehrig Pacific, says, "It was amazing to work with AMT on our recent project. All facilities are extremely happy with the result. AMT understands how custom equipment should run, and went above and beyond to guide us successfully through the design process.
"The Rehrig team as a whole has learned so much about what to expect from an automation supplier. It's just been a huge breath of fresh air working with AMT. Their attention to detail adds up to success. Given our experience on this first project, we know AMT has our best interests in mind and we view them as a trusted partner."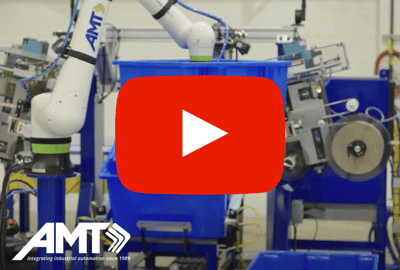 Do you have an upcoming project you would like to discuss? Please contact us.