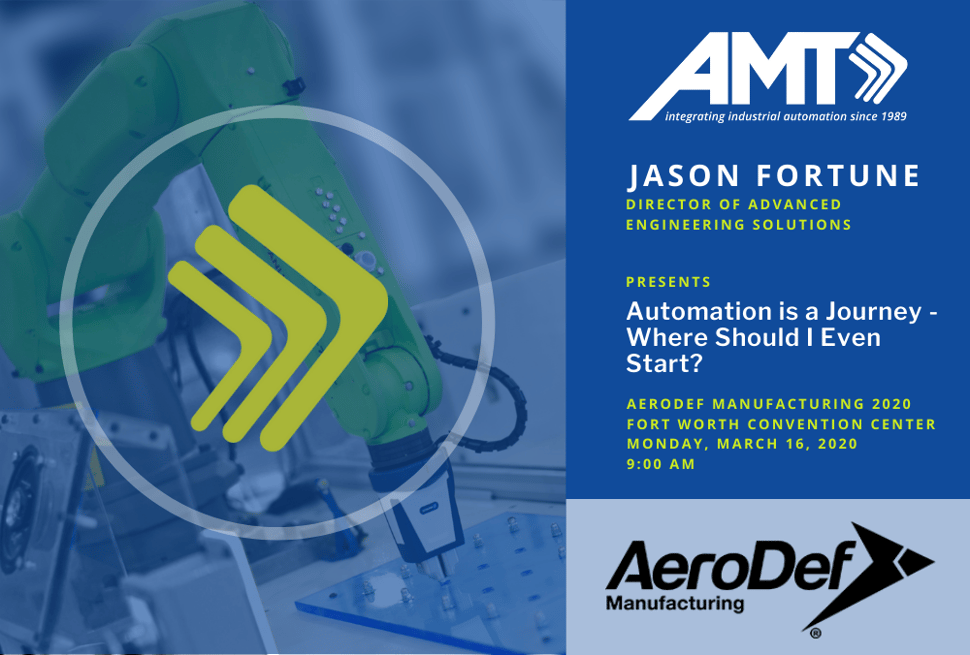 AMT's Director of Advanced Engineering Solutions Jason Fortune will present a workshop on successfully implementing automation at the AeroDef Manufacturing 2020 conference. The conference is entitled Automation is a Journey – Robotics, Industry 4.0, Factory of the Future, Where Should I Even Start?, and will take place March 16-17, 2020 at the Fort Worth Convention Center in Fort Worth, Texas.

Automation options and 'Factory of the Future' considerations are an important topic in manufacturing environments. This three-hour workshop will provide attendees a look into what is important and what key factors apply when considering installing cutting-edge technology in a manufacturing environment. The workshop will present an introduction to using a systemic process when evaluating technologies, help attendees understand what considerations should be made before implementing new technologies, and show real-world application examples.

Whether you are experienced in using automation or are considering automation for the first time, future factory environments may require a different approach for successful implementation. Advancement in technologies and the need for a dynamic manufacturing approach has forced many manufacturers into new considerations to enhance their manufacturing needs. When considering options like automation, robotics, IIoT or Industry 4.0, there are key factors that support successful implementation in existing as well as factory-of-the-future environments. Join us in a discussion of these key factors, and review case studies showing how a systematic approach can help you know where to start, decide what options may be right for you, and how an automation roadmap can support your team to ensure options like these make a positive impact to your manufacturing environment and workforce.

Learning Objectives:
Understand what considerations should be made when implementing cutting-edge technology into the manufacturing environment
Introduction of a systematic process to use when evaluating technologies
Learn how some applications have been used in manufacturing environments

Director of Advanced Engineering Solutions Group, Applied Manufacturing Technologies
As AMT's group manager for Advanced Engineering Solutions, Jason is focused on customer satisfaction, technical objectives, and tactical program leadership in the areas of automation consulting, operational manufacturing services, and safety standardization for large turnkey automated systems integration. He has more than 25 years of manufacturing applications experience, including expertise in system integration and program management. Jason is the author of several technical articles, most recently featured in Today's Motor Vehicles, and is a sought-after speaker at technical conferences.
AGENDA
Introduction – How to consider automation as a part of a future factory
Presentation - Considerations in new technologies that can be disruptive to manufacturing environments
Presentation/Discussion - Key factors that support successful implementation technology in the factory of the future
-Break-
Presentation – How to start development of an "automation roadmap"
Activity – Conduct a goal-setting activity
Presentation – Wrap up
Q&A

Workshop: Automation is a Journey – Robotics, Industry 4.0, Factory of the Future, Where Should I Even Start?
Event: AeroDef Manufacturing 2020
Date: Workshop – Monday, March 16, 2020 from 9:00 AM – 12:00 PM
Exhibit hall – March 17-18, 2020
Location: Fort Worth Convention Center, Fort Worth, Texas
Registration: Register FREE here