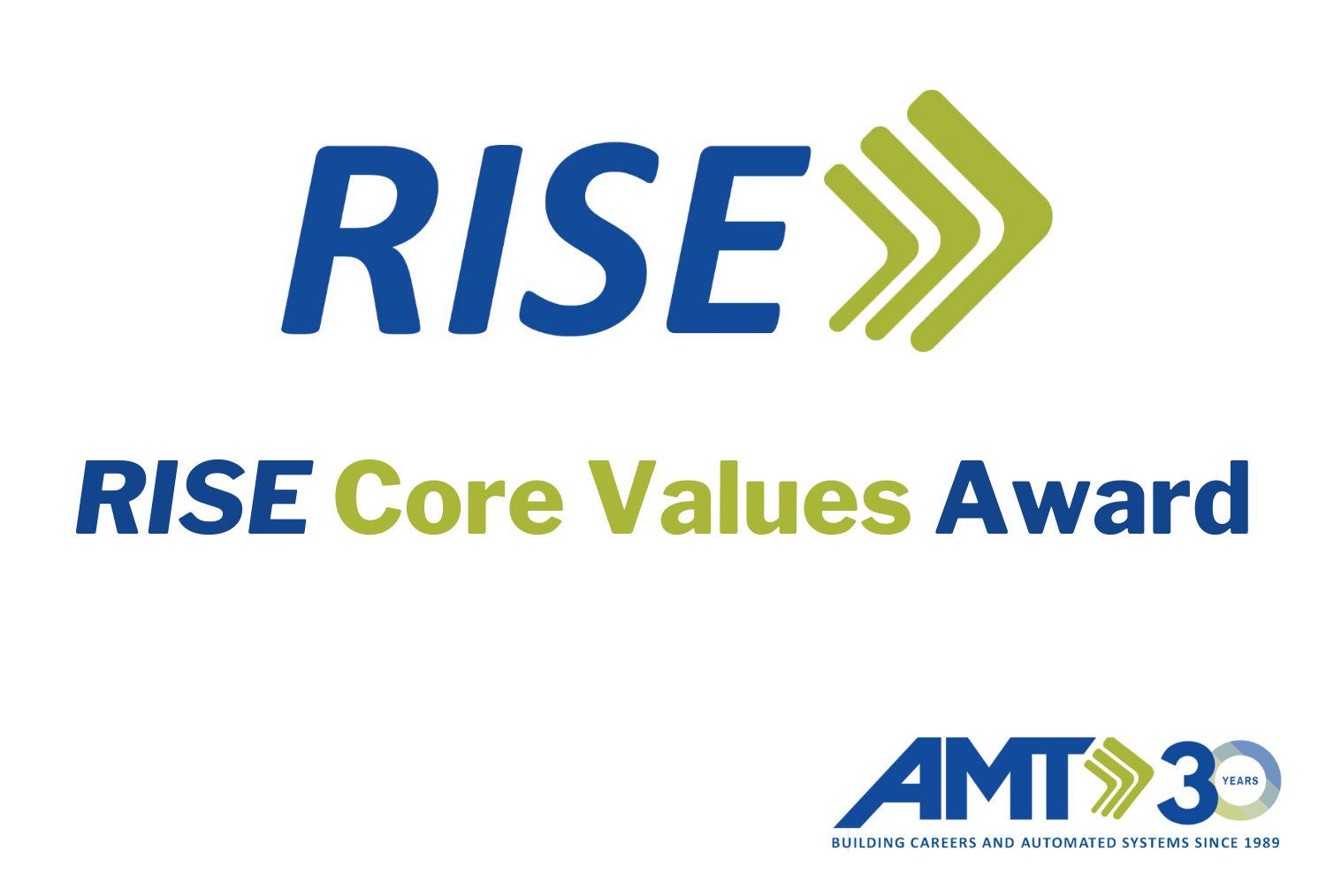 Since 2004, Applied Manufacturing Technologies has recognized two employees each year as embodying the company's core values of respect, integrity, support and excellence. Employees are nominated anonymously by their peers, and the recipients are selected by the executive and engineering teams. President Mike Jacobs encourages employees to submit their nominations each year, "It is a great opportunity to recognize someone who has gone the extra mile for AMT employees or our customers, and consistently displays our core values."

This year there were 29 nominations.
The RISE Awards were created to recognize the exemplary actions of AMT's engineers, sales persons, technicians, and back office staff; executives and engineering managers are not eligible.
AMT's core values are the characteristics that define what the company stands for. It is these values that form the basis for our operations and the decisions that are made at our company. AMT's core values are:
Respect for the individual - interest in the person
Integrity - true to your word
Supports the AMT Team
Excellence in reputation - part of something great
AMT President Mike Jacobs gave a moving speech at the company meeting when announcing the RISE Award recipients. "Our company culture has a strong spirit of mentorship," he said. "Respect, integrity, support, and excellence are traits we consciously nurture for the benefit of all. Please offer a hearty congratulations to this year's recipients, Kevin Ockert and Tyler Macsuga."
Mike asked members of the audience to stand if they had ever been nominated for a RISE Award. He asked people to stand who had previously been an award recipient, or have nominated someone. Mike then asked those to stand who had been positively affected by a RISE Award recipient. "Look around the room," he said. "Every single person in this company has been touched by the RISE Award. Thank you all for your contributions."
Kevin Ockert
Kevin Ockert is a senior automation engineer who was hired by AMT in 2000. Kevin lives in northern Michigan and mainly works offsite, most often at a customer's site in Traverse City, Michigan, or on one of his frequent trips to China. Nominated each year by his supervisor Jason Markesino, Kevin was recognized with a RISE Award this year for his outstanding contributions to the company.
"Kevin is a model employee," said supervisor Jason Markesino. "His dedication to his project earns him the respect of customers, who often request him by name. Kevin makes an impact wherever he goes, and is very honest and straightforward with the customer, even when it is difficult."
"Kevin is willing to do whatever it takes to make the customer successful, and always puts the company's and customer's interests before his own. He works long hours when required and is often away from his family for extended periods of time, either on one of his frequent trips to China, or at customer sites in Michigan."
"Although Kevin isn't in the office often, when he is there, he does a great job of taking care of newer employees through training and mentoring. Kevin also shows excellence in his work. In addition to his great attitude, Kevin is knowledgeable on many different robots, PLC platforms, and hardware and software designs. He is very deserving of the RISE recognition."
Tyler Macsuga
Tyler Macsuga is a controls installation technician who has been with AMT for more than two years. Working mainly out of the company's Orion, MI headquarters, Tyler works from engineering to build with the controls applications. He installs all the components, devices, and raceways to complete the project, and then travels to the customer's site to lead the controls installation.
Tyler was the only AMT employee this year to be nominated by three people. One of the nominations was from his supervisor (and father) Ron Macsuga, "Tyler is a self-starter, a team player, and someone who listens but is not afraid to voice a different opinion yet is not offended if a different direction is taken contrary to their opinion. He doesn't need credit or validation for the work that he does, he just does it and gets self-satisfaction for a job well done and complete."
All three nominations included glowing testimonials to Tyler's work ethic. "Tyler has always stepped up to the plate on all projects that he has been assigned to. Tyler does outstanding work. Completed projects look very impressive from panel build to cell wiring. He also works closely with the Controls Design Group to help make projects even more efficient in the future."
Tyler's third nomination touched on all four of AMT's core values, "You can see the pride in the work he does. He is always willing to learn and always there to take time to help solve a problem or look into a situation and offer suggestions. He's bright, friendly and kind. The type of person AMT needs."
Ron notes that Tyler's core values extend beyond the walls of the AMT facility, "The customers recognize him for his ability to get these projects finished, and in a timely manner. Craftsmanship and timeliness, that's what the customers praise him on. Tyler plans his work and works his plan."
Meet the 2019 RISE Core Values Award Nominees
The executive and engineering management teams were once again impressed with the 39 nominations, and several employees received multiple nominations. The testimonials below are especially touching when remembering that the nominee does not know who wrote them.
"…always takes time to listen to the issues of his team."
"…his positive attitude is infectious."
"He helps to guide other employees on his projects and makes sure they feel part of the team."
"He is not only an excellent employee, but a well-rounded individual and great coworker who is a pleasure to work with."
"He has helped to mentor many newer employees, ensuring their success."
"…like an Oreo cookie—hard on the outside but soft on the inside."
"…a dedicated worker and will work long hours and weekends, which may result in personal sacrifices."
"…time and again [name omitted] thoughtfully asks questions which have helped prevent details from being overlooked or missed…never ceases to impress…"
"…a self-starter, a team player, and someone who listens but is not afraid to voice a different opinion yet, is not offended if a different direction is taken…"
"…has been an asset to the team since he joined."
"I've never worked with someone who goes so above and beyond to make sure our customers are happy and that his fellow AMT team members are succeeding."
"He has impressed the customer, who on multiple occasions has complemented him on his performance. He passes on his knowledge and experience to others and does what he can to make the group better."
"He always sees the good side of people and supports them."
"…is a kind soul that has a quiet way and a genuine respect for others. He can design complex machines and create brilliant customer presentations."
"…demonstrates integrity and excellence in reputation with a "get it done" approach."
"…was simply the best boss I ever had…"
"He is a talented engineer and is regularly required on projects that very few individuals have the expertise or experience to handle… He is always willing to help out a fellow engineer."
"…is always there ready to support the team by answering questions and helping to mentor employees on new assignments."
"…is helping, uplifting, pleasant, and does not discriminate in any way. I enjoy working with him."
"From technical knowledge…to presenting in front of large audiences, he represents excellence in reputation and integrity for all of AMT. He is a pleasure to work with and is respected by AMT and his peers."
"…has an incredibly positive attitude and it is really admirable to see how he finishes the project from conception to completion."
"…solidifies AMT's excellence in reputation with our customers by providing them with outstanding customer service, going above and beyond what is required."
"He supports the team with his dedication and industry knowledge and is always helpful and available to support."
"…a colleague I can count on for guidance and whom I trust… He is an outstanding asset to the AMT team."
"No matter what he is asked to do… the response is always a heartfelt 'yes.' His attitude is very much appreciated."
"…cares for his fellow employees and is always there to lend a hand. His dedication and passion sustain AMT's excellent reputation."
"…one of the hardest working employees that we have."
"She works her magic and can solve many employee problems. She takes an interest in each employee and what is best for them."