AMT Employee Spotlight: Tom Pyper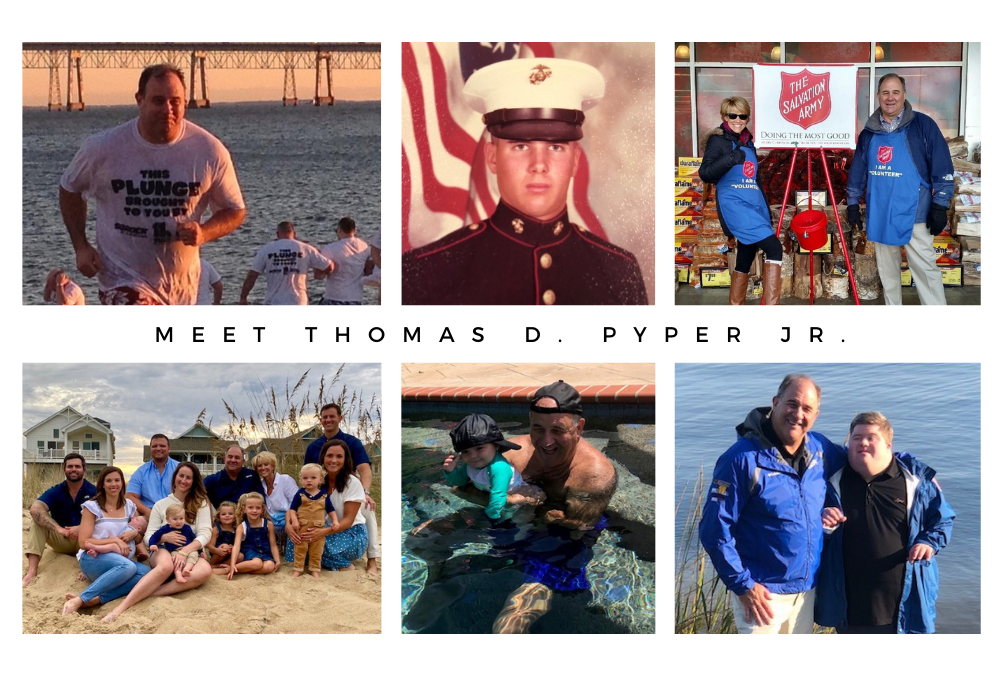 AMT's Business Development Manager Tom Pyper doesn't mind cold northern winters; in fact, he voluntarily took a mid-winter swim in the Chesapeake Bay on January 22, 2021. No, it's not an extreme case of cabin fever; Tom gave back to his community by participating in an annual Polar Bear Plunge to benefit Special Olympics Maryland. Tom and his wife Celeste have created team "Shore Boyz: Freezin' for a Cause" and have raised more than $40,000 in their decade-and-a-half of involvement with the program. Although the event is normally held in-person, due to COVID, the 2021 event is virtual with plungers sharing videos of their individual frigid swims. This year, Tom raised $15,147 to date, and donations are still being accepted on this secure team page hosted by Special Olympics Maryland through February 15, 2021. Please join AMT in supporting Tom and Special Olympics Maryland.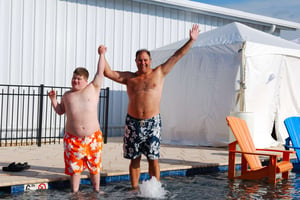 Tom has been involved with Special Olympics Maryland for the past 15 years. While most years involve a single plunge event, he decided to participate in a 24-hour Super Plunge event in 2012. He participated in his second 24-hour event in January 2021. "When I heard it was Special Olympics Maryland's 25th anniversary this year, I knew it was time to team up with my partner Josh Deel again and get back in the freezing waters of the Chesapeake Bay to help out our friends who are some of the most incredible, loving people this world has ever known!" said Tom. "I would love to think in some small way Josh and I have tried to make this world a better place."
Funds raised at the Polar Bear Plunge allow Special Olympics Maryland to host a wide variety of inclusion events throughout the year, benefiting more than 8,700 Maryland Special Olympians. The event has five divisions that competed against each other to help meet the charity's 2021 goal of $2 million. Tom and Josh were in the Super Plunge division, meaning that each team committed to raising a minimum of $10,000 before participating. Although the event was modified this year due to COVID, normally Super Plungers take a swim in the freezing Chesapeake Bay once per hour for 24 hours! Super Plunge teams have raised $265,756, and the total from all fundraising groups has surpassed $1.4M towards the overall $2M goal for 2021.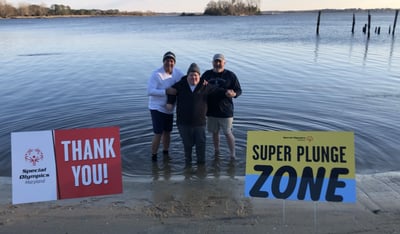 "I'll be 61 years old this April, and I've been fortunate to be involved with a number of fundraising efforts over the years," said Tom. "One of the most rewarding things you can do in your life is give of your time, treasures and talents. I've been extremely blessed in many ways and hopefully my efforts will help bring a little joy to someone else's life too!"
When not participating in charity polar bear swims, Tom works as a business development manager for the Automated Systems Group at AMT. "While we assist with selling AMT's engineering services, our primary focus is finding opportunities for systems work with new customers and new markets," said Tom.
Joining AMT in 2018, Tom's primary focus has been on palletizing and depalletizing applications in a broad range of industries. "My experience with the palletizing and material handling industry has allowed me to help AMT make meaningful connections with a diverse set of companies. I have engaged with several customers since coming onboard at AMT to help broaden our exposure in this market space, including a large global manufacturer of warehousing/logistics solutions, a large injection molding company, a global aerospace company, and several large consumer product companies," Tom remarked.
Tom attended the Cleveland Institute of Electronics and graduated with a degree in electronics technology. Married for 37 years and counting, Tom and Celeste have three grown children and five grandchildren. They currently reside in Easton, MD.
Outside of work and volunteering with local charities, Tom enjoys woodworking, travel, working on cars, coaching youth sports, and playing golf. When asked what he likes best about his job at AMT, Tom said, "I appreciate the flexibility AMT gives me to pursue opportunities outside our typical customer base. AMT brings a broad set of talents and capabilities to each and every application. It's rare to find such a broad range of skills inside one company."