AMT's Unique Training Program Featured in Robotics Tomorrow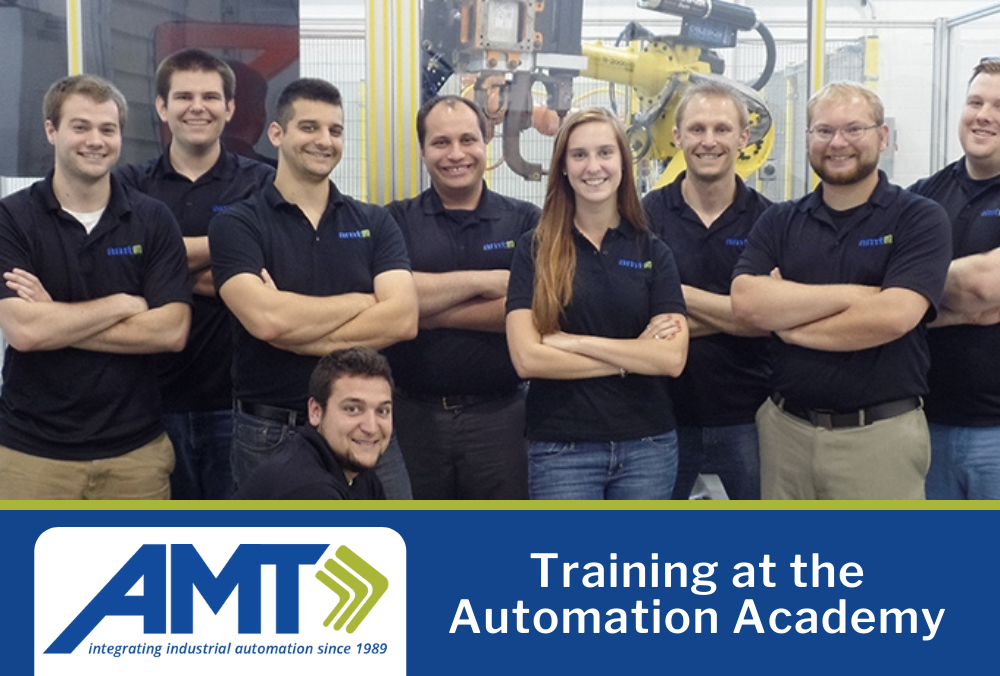 Applied Manufacturing Technologies' Jason Markesino, Engineering Group Leader of the Industrial Automation Group, was featured in Robotics Tomorrow where he discusses AMT's Automation Academy. This unique training program offers a curriculum tailored to train engineers to meet the needs of the growing industry and stay up-to-date on changes being made in automation and manufacturing.
With substantial growth since its implementation in 2012, Markesino said the Automation Academy was formed to bridge the automation and robotics skills gap in the worforce. He said, "We developed our own curriculum to train engineers to meet the needs of industry. Training was available for new hires and as engineers returned from field assignments. Learning was done through self-study or under the tutelage of an experienced engineer. This training helped to bring people up to speed much quicker than trying to learn on the job and provided much better service to our customers."
"In 2012 we formalized our program as the AMT Automation Academy and invested in a full-time Technical Trainer," said Markesino. "The Trainer was tasked with expanding the existing curriculum and developing measures to track student's progress. Basic robot programming modules were broadened to include several robot models and applications. Also introduced were courses on safety and the very important soft skills of communication and teamwork. The program has grown to include PLC programming and simulation. Today we have a 6,000 square foot automation lab dedicated to the Academy."
Automation Academy Topics
"The initial Academy covers FANUC robot programming from the ground up and Allen Bradley PLC's. After completing the basic Academy additional modules are available for Siemens PLC programming and ABB, Staubli, Kuka, and UR robots. We use Roboguide simulation during the FANUC portion of the class. Lab activities are completed in the real world and with Roboguide. We also cover iRVision and DCS."
Markesino continued, "There are pre and post tests for each module and a final post test at the end. Students need to get an 80% or better to pass. There is also a capstone project at the end where students use a FANUC robot and Allen Bradley PLC to create a workcell that does an application. The management team then evaluates the application as part of the final certification."
Supporting Customers
"Supporting automation is challenging and can be very complex," Markesino said. "Our engineers are working with many generations of hardware and software and applications. They need to be confident in their ability to solve problems they've never encountered. They build their confidence and competence through rigorous training and exercises in the Academy. They also learn that they have a support network they can call on when they need assistance."
AMT offers customized training for customers. Markesino said, "We will take backups of the robot programs and PLC logic from the customer and develop a customized training course on their equipment. We start by covering the fundamentals to give the trainees a baseline and then cover the specifics for their system and applications. The customized training helps increase familiarity with their system including what types of faults may occur and how to recover. We have also developed courses that customers can now conduct themselves. We developed the curriculum and did a train the trainer session, and now the customer has their own internal training program."
To learn more about AMT's Automation Academy featured in Robotics Tomorrow, read the full article here.
If you're interested in becoming a part of the automation community by implementing robotic solutions into your business, contact one of our engineering specialists.