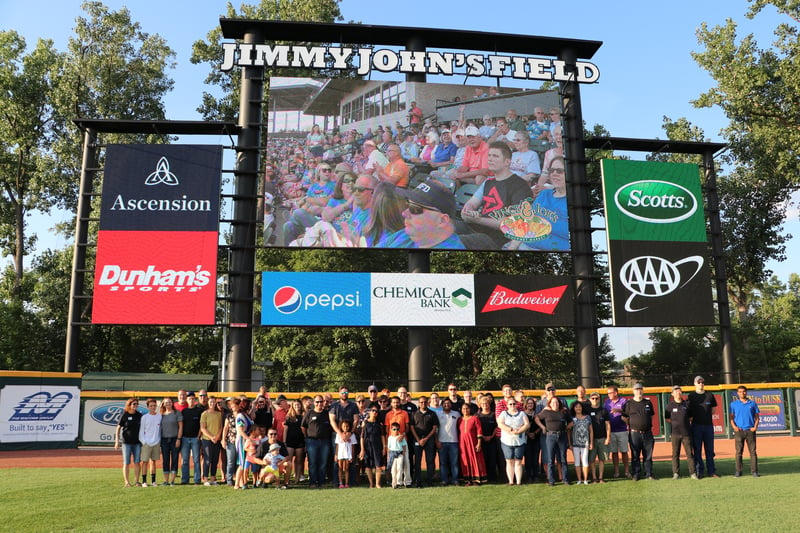 AMT recently celebrated the company's 30th anniversary with an evening of fun, entertainment and baseball at Jimmy John's Field in Utica, MI. Employees and their families enjoyed a barbecue dinner, group photo on the field, mascot meet and greet, player autographs, and whiffle ball before watching the Westside Woolly Mammoths take on the Birmingham Bloomfield Beavers in a United Shore Professional Baseball League game. After the game, kids were invited to run the bases on the field.
"I am happy that I had the opportunity to be part of the Jimmy John's experience for the 30th anniversary celebration," said Dan Ivan, control engineer who has been with AMT for three years. "Jimmy John's Field was a great choice, amazing atmosphere and ballpark, beautiful stadium, and the mascots interact with the kids and fans, and you can get close to see players warming up."
Dan continued, "I enjoy working for AMT and I was excited about spending some time together outside of regular business hours. I particularly had a one-time unique experience to rehearse and unfurl the flag during the national anthem. It felt good to be able to participate and proudly hold the flag in the middle of the field; it totally had the butterfly effect on me and my family."
During the event, Dian von Linsowe approached President Mike Jacobs and shared a heartfelt message. Dian is the wife of Senior Manufacturing Engineer John von Linsowe, who is celebrating his first work anniversary this month with AMT. "It was a year ago, on October 1, 2018 that I got my husband back – the day he started his new career at AMT. His previous work lasted 42 years and changed him over the years. He is much more relaxed and enjoys going to work. I feel very blessed that AMT hired my husband. Thank you, AMT!"
President Mike Jacobs knows AMT wouldn't be where it is today without the company's amazing people, the hardworking and dedicated employees. "As we turn 30, I believe we have the best leadership and the best staff we have ever had at this company. I'm grateful to every employee that has helped make AMT what it is today."
For more information on AMT's history and dramatic turning points throughout the past three decades, read this recent article.