AMT Employee Spotlight: Craig Snyder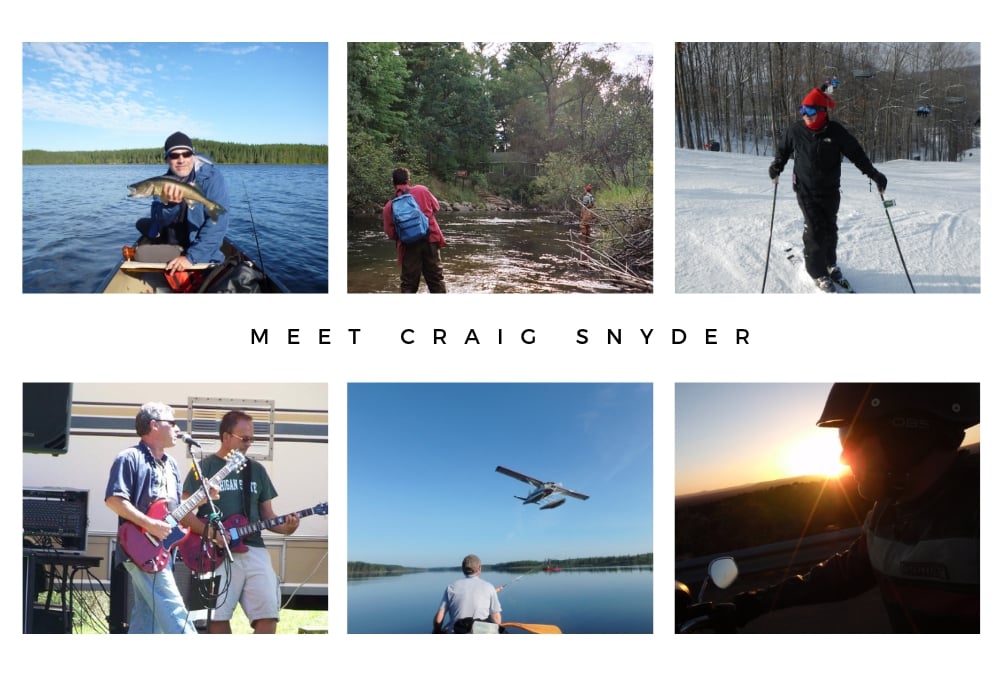 Craig Snyder's grandmother liked to take credit for his employment at AMT. When Craig was a new college graduate, she found AMT's help wanted ad in the local newspaper, clipped it for Craig, and prayed for his success. That was 27 years ago. Thanks, Grandma! Ever since, Craig has been a key contributor to the growth and success of AMT. He is respected and trusted by coworkers, and his knowledge and creativity drive customer satisfaction.
Throughout his career, Craig has worked on myriad projects in a wide variety of industries and disciplines, and some of his more well-known projects were for customers: Owens Corning, Nissan, Johnson Controls, Ford, Caterpillar, Pratt and Whitney, GM, and Mercedes. Coming up through the ranks, Craig has held many management roles that have helped shape AMT's technical abilities, core values, reputation, and growth that have brought the company to its current size of over 125 employees.
"We are extremely fortunate to have Craig as part of our Systems team," said Rick Vanden Boom, vice president – systems at AMT. "Craig brings a wealth of experience and perspective to our Systems business and his background makes him uniquely qualified for developing custom automation solutions for our customers. His contributions are key to our continued success and growth."
When Craig started at AMT in 1992, there were 13 employees. He began his career at AMT as a hands-on robotics process engineer, simulator, and software developer. "I spent the majority of my time on the road in customer facilities developing custom software, robot process development, and paint process engineering," Craig said.
After spending a few years learning the business, Craig was promoted to systems group manager and executive team member for software and controls. "During this period, I was the group leader for AMT's Systems Group, which at its beginning was software, controls and paint processing," said Craig. "In this role, I grew the Systems Group from nine engineers to a peak of 34 engineers. This group eventually evolved into three different groups, independent advanced software, controls, and an independent paint group."
For the past 15 years, Craig has been dedicated to the Automated Systems Group (ASG) / systems integration side of the business. During this period, he has been involved in launching AMT's turnkey build and integration division. Early efforts involved all aspects of system delivery: sales, quoting, hands on build and engineering, talent acquisition, project management, and group management.
In his current role of process and proposal manager for the Automated Systems Group, Craig's focus is on concepting and developing automation processes to solve customers' manufacturing needs, pricing those solutions, writing proposals to define them, and then selling the concepts. Craig also drives proposal engineering standards and consistency within the group.
"As we grew, dedicated engineers, builders, managers, and proposal engineers were hired and my main role became that of a project execution manager," said Craig. "Most recently, I have taken on the dedicated role of process and proposal engineering and have found that I really enjoy this work, the creativity it allows, investigating new technologies, concepting and drawing designs, customer interaction, and the direct customer sales role."
Local to the Birmingham, Rochester, and Oakland Township areas of Michigan, Craig graduated from Central Michigan University with a bachelor's degree in computer science in 1992. Craig is an avid outdoorsman in all seasons. In the warmer months, Craig enjoys spending time fishing in remote lakes, diving, riding his classic 1987 Honda Super Magna motorcycle, hunting for Morel mushrooms and spending time at home creating and maintaining his lush landscape garden. In the winter, he enjoys alpine skiing. Craig is also a musician, playing guitar with the band Trainwreck. In addition to their original music, Trainwreck also covers modern rock and country music. The group has published one album, entitled Runaway Train.