As a full-service systems integration and engineering services provider, until recently our employees either spent their time in the office, shop, or on the road. Along with much of the rest of the world, Michigan is currently under a stay-at-home order. Because some of our integration projects were for businesses deemed essential COVID-19 services, AMT had to quickly find a way to keep operations going while minimizing the risk to our employees and their families. The management team crafted a plan that keeps our employees productive and safe, and keeps us moving forward on the important projects entrusted to us by our customers.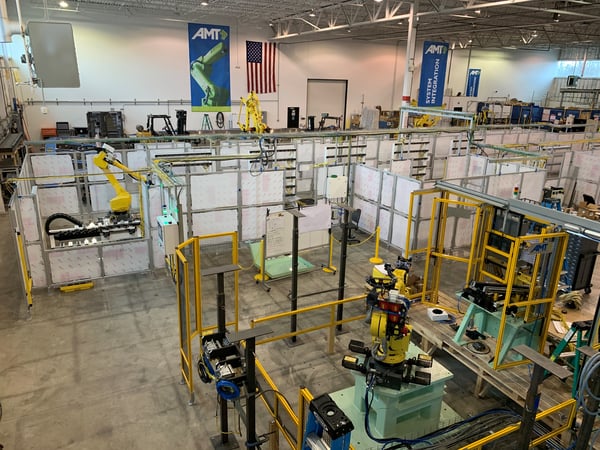 The AMT shop floor remains busy with material handling and system integration projects
Not all AMT employees are working from home. A core team rotates through the shop to keep our projects moving forward on schedule. Several engineers are still embedded with customers providing essential services.
To find out how our employees are coping with the sudden change to working remotely, we asked them a few questions about their experiences. Perhaps you will identify with some of the candid responses, both humorous and serious and often involving challenges with technology. Maybe you were on one of the conference calls where an embarrassing moment happened, and maybe you miss your coworkers as much as we do!
What was the hardest thing to get used to when working from home?
I am now the family "tech support." My son has some great teachers that are really engaging him with all kinds of online learning. Unfortunately, this means a lot of app installation, navigating new software, etc.
Sleeping later… I still get up at the same time!
Everyone being home and kids doing video school.
I'm sitting more now than I did in the office.
Not being in front of customers. Technology will never replace the value of meeting in person.
I had technical difficulties at first with Teams, so I had to finally find the right combination of using a wired headset with my personal laptop for calls/meetings.
Not being able to run out to the shop floor for a quick look or conversation.
Attending meetings with all the colorful background entertainment. (Dogs barking, cats walking across the screens, vacuums running…LOL Everyone is dealing with the same challenges!)
Routine interruption. I have a very specific, wake, gym, shower, fuel, podcast, and office readiness routine to prep for the day. Having a break in routine had a cascading effect on productivity hours.
The mental shift from "this is my Relaxation Place" to "this is also where I get work done." My working time seems more fragmented – instead of working X hours straight, I work piecemeal throughout the day, and work much later into the night than normal as a side effect.
The hardest thing to get used to is transitioning out of your work day and into to home life.
Eating lunch alone.
The transition was a little too easy…
Seeing my face every day on camera!

What is the funniest or most awkward thing that has happened during a meeting with the video on?
Everyone is trying to keep busy when you are stuck around the house. During a meeting that I was hosting my husband decided to power wash the house – it sounded like we were in the middle of a hurricane.
I treated everyone on my video conference to my cat's butt when she climbed on my keyboard.
Getting the correct document or video to share on my Teams screen.
Mostly, the dog barking his head off at lawn squirrels, the mailman, passing clouds, etc. when I'm in the middle of a teleconference. Also, trying to teleconference with my unreliable home internet…
Making sure the camera isn't on while changing. My home office also happens to second as the new makeshift home gym.
I always have my beagle curled up next to me during the work day… what a comfort during this time at home. At any time, she is within arm's reach and a pat or scratch on the chin does wonders for both of us. Of course, she also loves to attend online meetings and every once in a while the team gets some howling from the 'peanut gallery'… I consider it cheering for the great work we are doing!
The kids dropped all the dishes on the floor during a conference call…

What will you miss most about working at home?
The short commute
My dog
Casual working attire
I like not being in traffic everyday….I'll miss that
The commute. I can wake up 15 minutes before my first meeting.
Convenience… Quick walk down the hallway, heading to the office every morning with my coffee!
I'll miss the ability to mute, and become invisible during a meeting. Thank you TEAMS! 😊
Quick commute. Being able to shower after work instead of before, which allows me to sleep an extra hour.
More touch points with family. Returning to some level of normalcy will impact those additional touch points.
The short drive!
The (lack of) commute. I have two more hours in my day right now.

What is your WFH dress code?
My AMT Track Suit. Warm-up pants and my AMT track jacket.
Jeans and a polo shirt…I switch it up every once in a while with shorts and a T-shirt when it's 75+ outside.
Usually the same as in the office, but sometimes I'm extra lazy and wear sweats. No make-up, which is very strange for me and probably scary for the people on the other end of Teams calls!
Athletic pants, race shirt, and ball cap.
Relaxed business casual, I have only worn shorts for the last three weeks.
Keeping the daily routine and weekend casual. A few baseball cap days. I've been tempted to do stand-up in my bathrobe but routine and schedule suits me better…..maybe next week.
Shorts and a polo – no socks necessary
Same as at the office: collared shirt, jeans
Sweatshirt / sweatpants
Most days I still shave…
Jeans and a sweatshirt
Sweats and a t-shirt
Mostly the same as in the office, just minus shoes, maybe socks
There was a dress code?
Sweat pants or jeans, t-shirt, and a flannel coat or hooded sweat shirt


What have you learned about yourself during this "stay at home" period of time?
I'm a strong believer in servant leadership. I love to interact with people and help wherever I can. While technology helps, relationships are built shoulder to shoulder with those that need our help. I can't wait to get back on the road… I need it!
I always thought I would enjoy working full-time from home, and I do in some ways. Overall, though, I prefer the structure and in-person interaction of being in the office.
I can be quite productive with all the useful technology that is available
Time Management and diet self-discipline of having food available all day
I like working from home more than I thought I would
Individual work benefits from fewer distractions. Collaborative work is more difficult, even with web-meetings.
I learned you can be very functional in a virtual environment. But the best collaboration is still face-to-face.
I'm much more productive than I thought I would be. Having two young kids in the house sounded like a recipe for disaster. Having my own space set aside to work and my wife being the all-star that she is has helped me be very efficient at home. Possibly more so than at work!
I hate COVID-19
Working from home some days would be nice, but I'm not sure I'd want to do it full-time
I never worried so much about a camera angle
I've learned that I'm much more productive being in the office as there are way too many distractions at home. Home is my sanctuary and mixing work with home gets me all screwed up in the head!
I've learned that it's much more comfortable working from my upright chair in my work office than trying to find a comfortable position to work in on my couch! Who would have known? HAHA

What do you look forward to most about being back in the office?
Having grown-up conversations face to face
Being able to see the team in person again. Getting to interact with equipment again. I'm going to forget how to use a teach pendant.
Re-engaging with customers in the field
Seeing my coworkers
Looking forward to getting back with the TEAM! Miss the daily dialog and interaction.
The daily interaction and smiling faces
Being able to say hello and acknowledge team members directly. You can tell a lot by body language. I also enjoy overhearing conversations and being able to participate in micro coaching sessions.
I really miss the daily face to face contact with my peers… the technology for communication is incredible but I am a little old school and really miss the shake of a hand or being able to pass a pen and pad of paper without being worried.
The comradery
Team work and collaboration
The actual people contact will be good again
Seeing all my teammates and coworkers again. Microsoft Teams has been great to keep in contact but it's not a long-term substitute for face-to-face contact.
Seeing friends/colleagues
The coffee machine… More seriously, the ability to just poke my head into someone's cube and ask a question.
I look forward to feeling the energy from everyone