Weekend Adventures: A Controls Assignment in Italy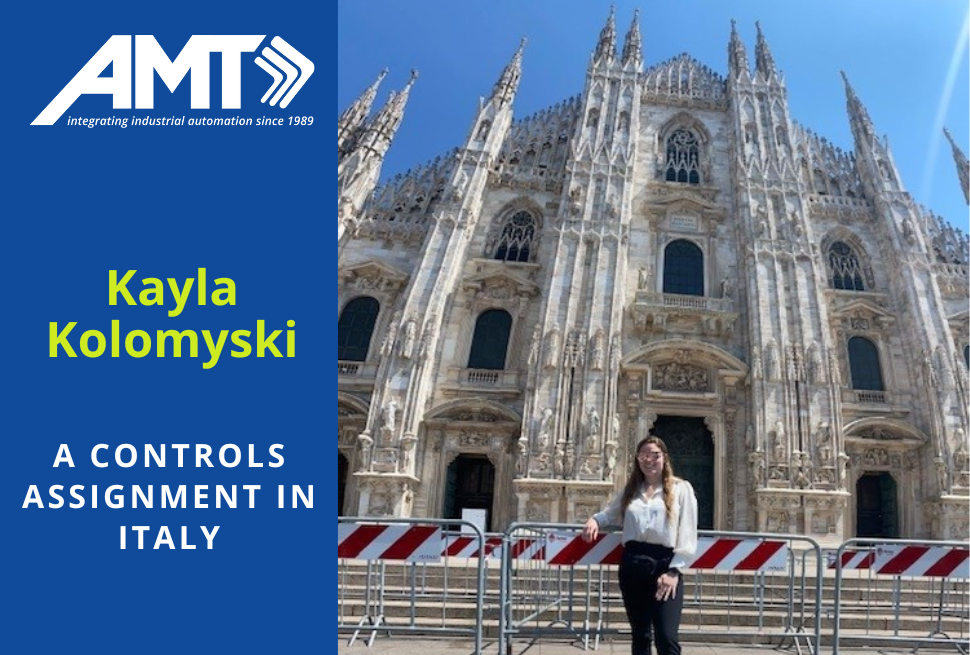 Blog post by AMT Controls Engineer Kayla Kolomyski
I began working at Applied Manufacturing Technologies (AMT) one year ago. Working with AMT has given me the opportunity to travel the United States, and most recently, Italy. In April of 2022, I had the opportunity to spend a month in Bologna, Italy for an assignment from AMT. Although, I was in Italy for work and spent my time working, I did have the opportunity to do a bit of exploring.
On my first weekend in Italy, I chose to take the two-hour train ride to Rome. At first, I was intimidated by taking the train since it's not something we normally do in the States. However, all my coworkers assured me that the trip would be simple and worth it to see Rome. They were not wrong about how simple it was! The train ride ended up being one of my favorite parts of this adventure and made me disappointed that we do not have an established high-speed rail system in the States. Just by chance, I was sitting next to an elderly couple from the States, so as I watched the beautiful Italian countryside pass, they told me all about their travels, which was comforting to hear someone speaking English. Once in Rome, I just wandered around and tried to see as much as I could in the few hours I had in the city. I really enjoyed my time there and would recommend that everyone experience Rome at least once in their lives. It is incredible to walk around a city and just stumble into ancient ruins or stunning art. The only unfortunate part of my adventure in Rome was that it was Easter Sunday, so everything was busier than normal.
My second weekend in Italy, I had the opportunity to visit the town of Imola for a Formula 1 race. This race was special since it was the first race since 2006 to allow fans to attend. It was an incredible experience to see how excited everyone was to finally be able to see their hometown favorite, Ferrari, compete. Only a short drive from Imola is the town Modena, which is where they make Ferrari vehicles. I did not have the opportunity to visit Modena, but it was an incredible opportunity to see everyone dressed in red and yellow to support their favorite team for the first time in 16 years. Sadly, Ferrari placed 6th in the race.
My third weekend was by far my favorite weekend. My family was able to visit me while I was there and we decided to spend the weekend in Menaggio, Italy which is located on Lake Como. This was my favorite spot, and I would live there if I could. Lake Como is a lake in the middle of mountains that are part of the Pre-Alp region. All along the lake are picturesque towns that are exactly what you would expect to see from a small Italian town. This was the most relaxing part of my trip since we just wandered around and took in the views and the fresh combination of mountain and lake air. Walking around Menaggio, we stumbled across a street market with local vendors and got to experience the local culture. While on Lake Como, we did a boat tour and went to the city of Bellagio where we had a meal of fresh fish from the lake and gelato. One of my favorite parts of this trip and of Italy in general is breakfast; there is just something so incredible about sitting outside a tiny café and having an espresso and croissant (my favorite was the apricot). On our way back to Bologna, we stopped in Milan where we toured the cathedral, Duomo di Milano. The cathedral was stunning but surrounded by clothing stores, mostly designer. It felt very modern compared to all the other places I visited which made it my least favorite.