AMT Employee Spotlight: Kevin Gibson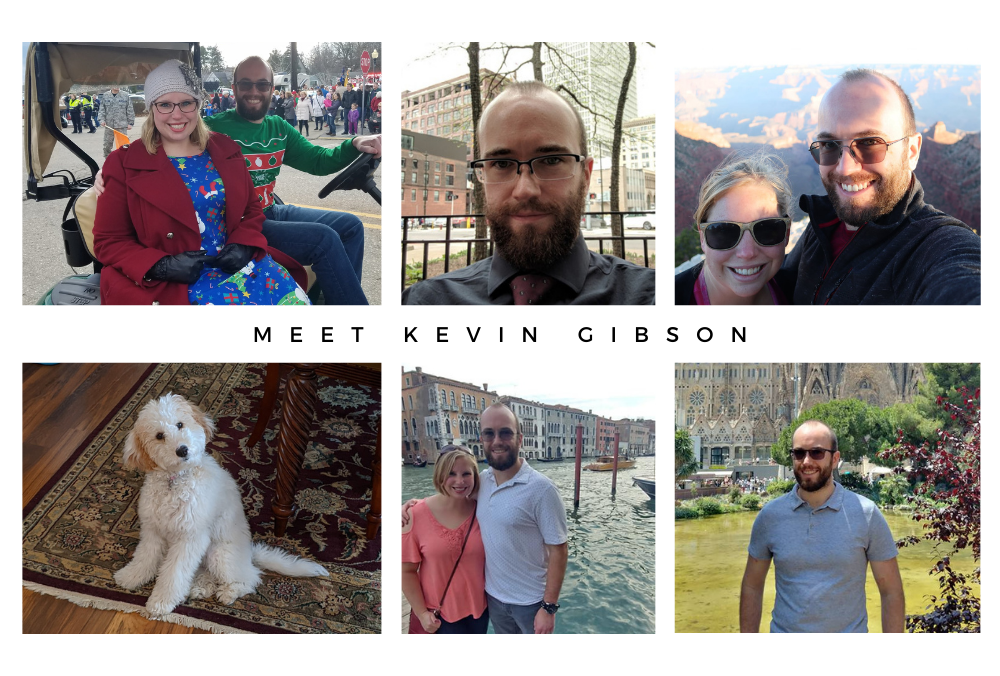 Chalk it up to luck, one never knows where they will find excellent engineers! An avid outdoorsman, Kevin Gibson first learned about AMT in an unlikely place: a campground in Lexington, Michigan. A few years ago, Kevin and his wife Nicole were camping and happened to meet VP of Sales Rick Vanden Boom. As conversation turned to work, Rick learned of Kevin's occupation and invited him to apply to AMT. The rest, as they say, is history.
Joining AMT in 2018 as a senior controls engineer, Kevin programs assembly lines, taking electrical wiring diagrams and creating the software that brings processes to life. "I think of my job as a role with many hats including process engineer, programmer, user interface and user experience designer, technical documentation writer, network engineer, electrical technician, and handyman," said Kevin.
Kevin is known at AMT as the resident "network guru," according to Controls Manager Terry Meister. "In the PLC world, when we began using Ethernet, most controls engineers have a huge learning curve. Understanding the hardware characteristics, the hardware limitations, setup of managed switches and programming IT-level software is a large change for PLC programmers," said Terry. "With Kevin's extensive background in IT he took the group to a new level in respect to understanding and being able to tackle these issues. His assistance to the team on a day-to-day basis has helped us all to grow in our network knowledge."
Kevin has always loved computers, and says networking goes hand-in-hand with that. "Around 1991 my grandfather (who was also an engineer) gifted my family an AT&T PC 6300, which was originally introduced in 1984. I was hooked; I loved playing games, drawing art (in the 16 colors available in the paint application at that time), and helping other people with their computer problems. Like most kids my age, I cut my network teeth on dial up, T1 lines, and Ethernet (I missed out on the terrible fun that was Thicknet and Token Ring networks)."
"From high school through my first year of college, I worked at computer repair shops fixing computers and setting up networks for consumers and businesses. While earning my BS in Information Security, I spent a lot of time building networks, analyzing them, and attacking them both in classes, and as part of hacking competitions. With the adoption of Ethernet-based / Ethernet-like networks in control systems, I get to leverage a lot of my existing knowledge regarding proper equipment, features, structure, addressing, controls, etc."
Kevin's enthusiasm and experience are highly regarded at AMT. "Kevin is one of our senior lead controls engineers," said Terry. "His day-to-day activities include supporting a project from kickoff to the site acceptance test. He is instrumental in creating the software and networking for our systems. At the start of the project, Kevin creates a detailed functional write-up of the scope of work to insure we are aligned with the customer's expectations. From then on, he will create the working software, HMI screens, network topology and programming. Kevin has also assisted in creating our software standards for AMT. When we brought him on, we knew Kevin was an experienced controls engineer, but little did we know he would take the team to a new level with all his expertise and by becoming a mentor to our team."
Two of the biggest projects Kevin has been involved with are the multiple conveyance and palletizing systems for a food production customer, and a very large turbine engine blade manufacturing project for an aerospace customer. "The palletizing system was challenging due to the volume of product we merged from several lines of production into a central conveyor, which spaces the boxes evenly, carries the product through quality assurance systems, and finally divides them at high speed according to their batch in order for the robot to pick the boxes and stack them on pallets," said Kevin.
"The turbine engine blade system project was complicated because of the sheer volume of part tracking, with its capability of using more than 700 part carriers. It was also complicated because of the relationship between the various parts; each blade style had multiple models of machining tools which would degrade as they are used, from finish to semi-finish, to rough, to retired. Additionally, tools could be added or changed. Finally, the system required autonomous recovery, meaning that it had to recover without user intervention. All these things had to be done within the PLC and not using a database."
Terry was impressed with Kevin's work on the aerospace project. "This was one of the largest projects we have taken on with this amount of part tracking. Kevin is involved and takes the lead on many of our PLC standards and safety for our systems."
Despite his busy project schedule, Kevin has been investing time in creating a code library for AMT. "As I run between different projects, I have been working on making reusable code blocks for standard components. The idea being that any engineer would be able to copy and paste a self-contained instance of an emergency stop button or a light curtain, for example, into a new project and already have all the functionality, indicators, and fault messages ready to go, and just having to map the physical IO points. During a brief break between projects this past winter, I brought my home-lab safety PLCs and safety modules to work and set them up on the horizontal filing cabinet at my desk to work with and develop the components I could get my hands on."
Originally from Oxford, Michigan, a mere 20-minute drive from Lake Orion, Kevin moved back to Michigan after spending a couple of years working at Tesla in California. "When I moved back, I bought a home on four acres of woods and a large pond; it's very peaceful and I get to see/hear deer, owls, turkeys, waterfowl, etc. on a daily basis. My wife Nicole is also a local, and her parents are nearby so we are glad to be back."
Kevin has worked full time since high school, including his years studying at college. He graduated from Baker College with a bachelor of science in Information Security. Kevin and Nicole, who works as an independent insurance agent, have a 5-month-old poodle-golden retriever named Tiramisu, or "Tira." Kevin said, "She is ¾ poodle: fluffy, smart, strong willed, and the best part is that I'm not allergic to her!"
When not at work, Kevin and Nicole love traveling and golf. "I've been all over the US, a few trips to Canada (Ontario, Brampton, Toronto), Mexico, Dominican Republic, Spain, Italy, Croatia, Greece, Montenegro. In the Dominican Republic, Nicole and I played Corales Golf Course just before the PGA tournament in March 2021. It was a breathtaking course on the edge of rocky oceanside cliffs. The next big trip will be a tour of Northern Europe, when this pandemic lets up."
An engineer at heart, Kevin continues to pursue his passion for computers. "Computers are still a big part of my life – I still attend Infosec conferences and participate in hacking events. I build my own gaming rigs for playing with friends over the internet and old school LAN parties at friend's houses."
Kevin enjoys working in the automation industry. "Being a custom automation integrator keeps you sharp. There's always new challenges, processes, or equipment being introduced. AMT isn't just an integrator, it's a collection of the finest engineering and automation talent in 'Automation Alley.' "
When asked what he likes best about working for AMT, Kevin said, "The people are friendly and helpful; if you need help with anything, you need only ask. Everyone wants to see our customers succeed."