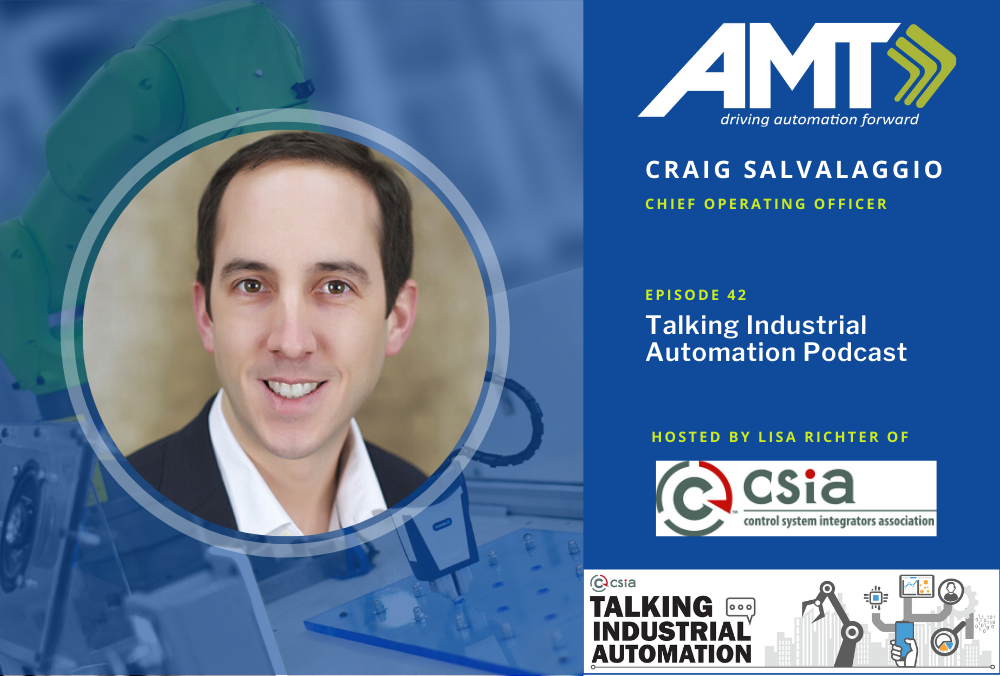 Applied Manufacturing Technologies' Chief Operating Officer Craig Salvalaggio is featured in episode 42 of the Talking Industrial Automation podcast hosted by Lisa Richter of the Control System Integrators Association. Craig's thoughtful answers to Lisa's questions give listeners a peek under the hood of AMT's 30-year success story, an explanation of the value of hiring a CSIA member company and provide meaningful insights as to what is ahead for manufacturing coming out of the COVID pandemic.
Recently, Craig Salvalaggio chatted with CSIA's Lisa Richter for an episode of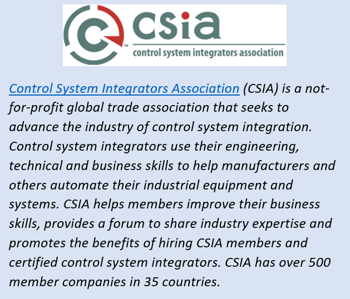 Talking Industrial Automation. Craig describes how he embarked on a career in the system integration business, first with his experience at college, and later at AMT. "Personally, I've been excited about robotics and machine vision from my early days in the Lake Superior State University lab working on dated robot arm and vision technology with some of the first Adept systems."
Craig's History with AMT
Knowing that people outside of the manufacturing industry might not understand what AMT does, Craig concisely sums it up, "In one sentence, what we tell people is 'we place robots and automation in factories to help companies become more productive and more competitive.' "
"Early in my career, I was fortunate enough to have the opportunity to get started with a great company with a great leader at AMT. I had a great technical mentor within the organization that's aligned me with some of the 2D and 3D vision guidance applications that were early adopters at that time. A lot of the interfacing and calculations that we see today based in libraries didn't exist, so early on I was really fortunate to be a part of some of the leading technologies within the robot industry space. As I got more experienced learning the technology, I adapted my passion toward the business case for automation and really started asking fundamental questions about how you make manufacturing within the U.S. and globally more competitive. The other passion for me was getting people started in their careers because I personally had that chance to do so and I wanted to give back."
Craig shares details of AMT's three-decades-long story. "Automation and system integration run through AMT's rich history and culture. AMT started in 1989 as an engineering services organization. The company focused on the growth of robotics in a lot of the automotive companies. Our founder and CEO today, Mike Jacobs, started the company after his initial role with GMFanuc, which was a joint venture with GM and FANUC where he was really pioneering the early days of robotic simulation. He envisioned a future of needing more engineers in the market to service the growth that was happening in automotive body shop and started this organization to support that growth. Early on, the growth and our strong tie to General Motors served us well and allowed us to build full-service engineering capabilities. We were the early adopters of developing very specific standards of large-scale automation deployment. A lot of that foundational work lead to our competency and ability to expand and do more complete design and build of solutions."
"As we diversified starting in the early 2000s, we started building turnkey solutions and saw that as a necessary growth path for the company. We provide the opportunity for a career path for those engineers - that is something I was really passionate about. A series of strategic acquisitions, leadership hires, and keeping some strategic objectives within the organization to enter new market segments really allowed us to be where we are today, which is a full-service engineering company that does systems integration and has a diversified customer base."
Changes Caused by the Pandemic
Discussing the pandemic in May 2020, Craig describes the impact this unprecedented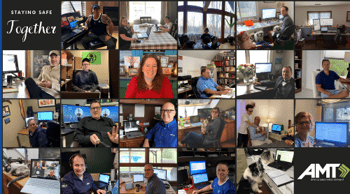 event has had on the company. "What a rollercoaster the last many weeks have been. One of the things that AMT did well was that we reacted fast with how we communicated. This was a moving target and we only knew what was going on that day and could only predict the day ahead. We were fortunate enough to have many systems on our build floor that were serving the critical supply chain industries of food manufacturing and the defense sector in aerospace. Those projects allowed us to keep a critical element of the business moving in a very safe and healthy way from the workload perspective. Some of the businesses turned off and came to a grinding halt. Our customer mix allowed us to keep multiple departments moving fairly well through this."
In May 2020 during the height of the stay-at-home order, most AMT employees were working remotely. "There are about 130 employees now at AMT, and there are only about 10 people working currently in our shop floor environment. We rotate out and space out the employees, then we have one or two program managers, and our executive team rotates out weekly. They all take a day a week, and in the weeks ahead, we'll be slowly starting with more people in the building with the attention to detail on cleaning. Understanding the guidelines for returning back to work is probably our largest challenge now."
Craig believes AMT did several things well in order to keep employees safe and the business moving forward. "There are three things I can point out that are worth talking about. The first is communication and overcommunicating. It started with our leadership organization and Mike Jacobs providing daily CEO updates. Some of it related to what we knew that day, but some of it allowed some moldability in the organization to say 'Hey, we're leaders, we're all human. We're going through this emotional experience together and we're going to get through it together.' "
"During those first couple of weeks where there was a lot of uncertainty and you were in a downward spiral, communication was really needed to ensure that the organization knew that the company had their backs and we were going through difficult times as far as workload and such. Another thing we did was inclusion. So, if you look at the operating day, there are silos and groups that talk to one another more often. We started doing daily huddles where there were larger groups of 30+ people. Sales information was shared with different departments; we made sure people in the field understood what activity was going on. As we go through this with your personal life based on work from home orders, it really mixes with the business and starts to create humility in all of us. That's something I think we did well as an organization."
"The second thing [we did well] was having a thematic goal. If you've ever read much of Patrick Lencioni's work, its relatable to what they call a rallying cry. It was magnificent to see the organization. It's impacted in a way that when you all come together in a thematic goal - an essentialized theme that everybody is working towards - what kind of achievements you can pull off in a short period of time. We created a thematic goal tied around getting people back to work through some training programs we developed for anybody impacted negatively by the workload. That was the original rallying cry, and we started tying that to "Competence Day," which is when we all return in a healthy and safe environment and our customers' perspective is similar. We can resume back to some level of normal operating levels that would allow our economic engine and flywheel to sustain the business. That's what we rally around every day and our updates are about the return to Competence Day."
"The third thing to mention is the number of employees who offered unsolicited help in conjunction with First Robotics and a few other organizations. They did this on their own and they deserve a lot of kudos for supporting the industries that they're not typically involved in."
Despite the disruption from COVID-19, AMT has seen an increase in the size of automation projects in the last year. "The size of our turnkey automation projects has started to get larger with a lot more content. You look back maybe ten or more years - we had done a lot of single robotic cells, smaller automation, single application. Now, our ability to take on more scope and more content has been increasing with every project due to the relationship with our customers and also our ability to take on a start-to-finish project where you own the process all of the way through. That's where the size of the projects just starts to develop in scope. That started with some engineering analysis, building our first turnkey thermal forming handling system where we're handling product from press through palletization and pack-out. We've done a number of similar projects with case handling, sortation, and pack-out automation."
Making Good Business Decisions
Craig reflects on some of the key business decisions that AMT has made over the past several years. "In 2001, we said diversification was critical in everything that we do. We were coming out of the 1990s - very automotive-centric days. We respect that business and service it very well - and still serve it with grace today. Diversification - that theme to continue with our strategic objectives to diversify because it will one day pay off, and that's been in place since 2001. With that, we changed to a more sales-forward approach and a sales-driven organization. We really paid close attention to a smaller number of customers where you gave them the experience that they wanted. It was a little bit of a differentiator because you develop much deeper relationships. It allowed us to focus in on a few industries and hone in on those customer relationships."
AMT has a unique approach to executing projects, which has proven to be successful over the years. "I always remind everybody to stick to the process, even when it's uncomfortable. Early on in the company's history, we developed a unique set of tools in the talent pipeline. It was very driven towards program management. It created habitual efforts that ultimately create consistency in our approach. It starts from the sales process, understanding the application, the resolution, and the relationship. In some cases, a customer asks for something, but it's really not the right thing for them, so we start at the beginning and say 'here's what you really need' and we're not afraid to have those difficult conversations upfront. It's about data transparency all the way through the project, through project kickoff, all the way through the project. Our latest enhancement really has been a longer, more detailed kickoff process that you really capture that time scope, base milestones, and then calibrate internally. Once we calibrate internally, we make sure the customer has an open line of communication and is never waiting for the communication. They're anticipating that you will be ahead of what their plans are."
Successful End to a Challenging Project
Craig describes a material handling project with a short turnaround time that AMT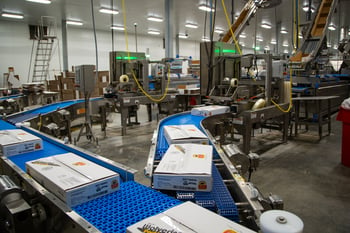 reluctantly took on. "It was a very challenging case handling, sortation, and palletizing system that had a lot of components with a very compressed timeline. The compressed timeline meant that we needed to get engineering products on order without the complete design flushed out from a throughput and specifications standpoint. We had to take a couple of chances."
The short timeframe was not the only challenge; AMT had to create a detailed installation schedule that played out over four separate periods of production downtime. "The other aspect of the project was the installation schedule had to accommodate four cascading weekends. We had to take old equipment out and put new equipment in. We had to do facility management from runoff on our floor. We had to have the shipping trucks ready by 5:00 pm to show up at a site two hours from here where an evening crew would start unloading equipment and have a sequential power-on phase ready by Sunday morning. We did this over four cascading weekends… talk about teamwork and a thematic goal and what you can accomplish if everybody rallies around it! We had a schedule for each of the weekends down to 15-minute increments to know if we were off-track or on-track. At a certain time by day two, Saturday, we had to know when to pull the plug or not because we had to get the company ready to run again by Sunday evening… What a fantastic opportunity to learn and grow and become better."
Long-term Relationships
Craig shared that AMT is fortunate to have a large base of repeat customers. "The initial number [of repeat customers] is maybe a little over 60% - it's probably higher if I looked through the actual analytics. The reason I say the 60% mark is because some of our business is cyclical where we're really engaged over a couple of years, then there's a time period where there's no model changeover, or there's a life cycle expectancy. That goes quiet for a little bit. There are a number of customers in the last two years where the partnerships have really strengthened to a point where we're only doing business together and we're just in a role where from a price point, from a service, from an expectation standpoint, we're really aligned. That's where I would say that percentage number is starting to increase. A part of how we get there is ensuring attention to detail, quality in our design, and safety-first thinking. We understand all of the aspects of risk assessments and we bake that into our design early on and focus on the entire experience."
In order to provide excellent service to the company's customers, AMT has developed partnerships with several key vendors. "We have a number of suppliers. We work with everyone from conveyor companies to all the technology companies - whether it's the robotic arms, the conveyors, the PLCs, the vision systems, the barcode readers - we work with all those technology partners, fabricators as well. We try to pick a couple and make sure they are more strategic in their nature."
In addition to key vendor partners, AMT has found that there are a few key certifications and association relationships that have benefitted the company. "There are two specific certifications and partnerships that we work with, and two associations that we're involved in. You heard me speaking about GMF and FANUC and our tight relationship with many people in the organizations, from the leadership all the way down. That stems from Mike's early-on initiatives and relationships with GMF. We're an exclusive FANUC robotics certified integrator and partner and that has allowed us to achieve great things with a great product. Rockwell Automation is our other technology partner, and we work with them almost exclusively and have that support program to an advantage."
"The second is our involvement in industry associations. One of the largest that we are involved in is the RIA, which is the Robotics Industry Association, a daughter association to A3 where we serve on many boards and committees. The other is the CSIA, where Lisa, I got to meet you a couple years back at one of the events where we got to know one another. I thought it was really beneficial for us to be a part of the companies that are within this network and really leverage the networking and the peer-to-peer knowledge sharing, and some of the exchange programs to really stand out in a growing industry. Those are our four primary relationships."
Benefits of CSIA Membership and Certification
Of the benefits of CSIA membership, Craig says, "it's the peer-to-peer networking of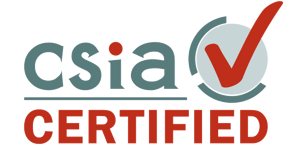 like-minded leaders and like-minded companies. There is so much to learn from one another with respect to business practices and industry learning that we shouldn't be afraid of. There are competing forces out there where we all maybe have the same customer base but I think at the end of the day there is enough business for all of us. We will win some, we will lose some, and when you work with the competing forces and learn from one another, you can glean a lot of information that allows us all to become more hungry, a little more humble, and a little smarter about our approach to business."
"Companies may say, 'I don't have time to go through these certifications' and 'what can it do for me?' and really I say the [CSIA] program supports a network of companies that possess all capabilities at a very high level to deliver engineering solutions, systems and services that are reliable and of good quality. And, by going through the certification and choosing a company that has gone through that and is a member of [the CSIA], you have a higher probability of selecting the right partner."
"The certification is great because it's that self-assessment, a benchmark in the industry, that says 'hey I went through this rigorous process; it might have been painful, I may have not had enough time for it, but boy I am glad I did it' at the end. AMT is not currently certified by the CSIA but is investigating that program right now. We are highly involved in the Robotics Industry Association (RIA) and we have put a lot of time into that and that's served us well but we have our management team looking at this [CSIA] certification right now because it differentiates us a little bit. The RIA program, a certified integrator program, focuses more on technical and safety practices whereas the CSIA is a bit more on business practices and making sure that all those things are in place whether you're a five-person team or a 300-person integrator. Those all change at a certain aspect of the growth and the lifecycle of your company and this program has achieved that growth trajectory, making sure that you have good processes in place."
"I would also say that when you look at hiring a CSIA integrator, it allows you to do a couple of things. From a manufacturing standpoint it says 'I now have confidence that I am working with a company that follows best practices and understands some of the industries standards.' It says 'I am working with people that want to achieve a high level of quality.' You are working with proven industry leaders. You are working with organizations that want to measure customer satisfaction and document the record of that based on previous projects. You are doing risk mitigation by ensuring that they have business practices in a higher level of proficiency. And then you look at the breadth and depth of knowledge; you know you are working with companies who want to benchmark themselves against other competition and learn from that. With all that, you get this deeper commitment and accountability in your business model. It ties into how you look at applications, your internal processes, the technologies that you use and how you test your people, how you train your people and all that investment. At the end of the day, it's about staying out of trouble for everybody. It's business risk mitigation and by going through the process you are taking those initial steps to say we are investing in both sides, both in the industry and in your own business practices."
Advice for Prospective Customers
Craig elaborates on what prospective customers should consider before hiring an integrator. "I would say the best thing you can do, especially when you are investigating a market space that is unknown is educate yourself on where the current technology stands. You can reach out to good associations that would help you do that, and CSIA is one of those. It can lead you in the right direction. Do a little bit of education to know what you're asking for as well and make sure you are treating the companies as a partnership - finding a partner not a supplier. You don't want to find just an automation supplier - you are looking for a company that has got your best interest in mind, that is guiding you and showing you what the best way to approach [your problem] is. Again, you want to leverage the strengths of the integrators, that is why they are out there. Many manufacturers, and some do it well, they want to self-integrate, piece things together, or buy on low price vs. quality. Everybody has a different strategy and that is okay but you really want that partnership where you can call those people up at any time and you know they will answer the phone and you know what kind of support you're going to get."
"When you're a manufacturer and you go through that decision process where you go up for bid with an RFQ - and some people have these really detailed RFQ's and some people have a 'napkin sketch' that they give you - and you go out to ten or six bidders and you come in and you make the selection process, the communication internally within those organizations is very critical. Sometimes, it gets vetted in the first round and handed off to a procurement team where they maybe have a selection grid. I say go a little bit deeper. There are a couple of things that you can follow regardless of who you are and where you're at. I always like to say, right-size your business with the end user, and these are both two-way street conversations - the size of the project, the type of application, and the experience you have. So, whether you're a manufacturer going to an integrator network with a certain size of a project - that size, whether it is a revenue size, technology scope, or just floor-space related – it has to align well to get that proper attention within the company. That is critical on both sides of the fence."
"Follow the processes within your organization. I always tell people not to skip steps, whether it is your program management discipline, how you approach risk assessments, or even skipping steps within your buy-off criteria. It goes back to that earlier 'stick to the process and it won't let you down.' Then, update yourself and your team and know what the latest standards are. Sometimes safety standards drive cost into a project, but they also drive what is required to meet new industry standards and to keep your workforce safe. Go all the way through the process and make sure you go through the final acceptance. Don't skip those steps and agree to your performance and buy-off criteria. Accept the system on both sides and just be up front and honest about what is required to get it across the finish line, whether there are delays, you are missing product, or your plant is not ready to accept the equipment. Just open yourself up to those communication channels both ways and remind your team, even when things get hot, that it is a partnership, we are going to live to fight this again, and we are all here to support one another."
Industry Trends
With the company's heavy involvement in industry associations, AMT stays at the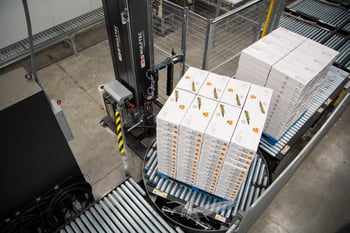 forefront of automation technologies. Craig comments on current trends, "There are a couple of things we are seeing where the market might not be completely served based on the technology right now. As we grow in our warehousing and automation business and how we are serving that part of the industry, we are seeing a couple of things. There is technology maturity that still needs a little bit more advancing when it gets to palletizing and some of the new distribution, in terms of adopting standard industrial robotic technology. We are seeing a lot going on with the back half of factories, whether it is putting stuff in boxes or packing cases out, sorting them and then palletizing them - turning the back half of your factory into a lights-out operation."
"The other thing is we are seeing a lot of first timers. Companies that didn't have automation previously are looking to get a little more productivity out of their factories, a little more up-time on the spindle and a little more related to labor if there is a shortage in the area. New technology is being applied, such as power and force limiting, which is more collaborative robotic technology that is a little bit lower price point, entry-based type of system you can pare down into a single robot application which ties into fenceless applications as well. And then, all the technology from PLCs all the way through GUI interfaces and their robotic technologies will become a little easier to use, a little more widely adapted as people leverage it. If you combine a great workforce and the technology, you can be more competitive and have those workforce members be trained on higher-skilled jobs which allows them to invest in their careers and provide more value to the organization versus displacement."
Customer and Industry Challenges Amid a Pandemic
AMT is helping customers address the challenges they are currently confronting. "The biggest challenge our customers are facing right now is 'how do I get automation deployed quickly to ensure I keep my manufacturing facilities moving at the rate in which the demand uptick is predicted?' There is a respect for a timeline and what it takes to order capital equipment and to design something versus ordering equipment without a specification. And, there is that healthy balance where a project can have a 28- 32-week delivery and the expectation now is 16-18 weeks - you have to be careful where you shortcut the process. It is one of those things where it's that education back-and-forth and coming back to something reasonable that both teams can sign up to."
The 2020 COVID-19 pandemic brings additional complexity to the marketplace. "Obviously, there are a number of challenges right now and we are very optimistic on how we will return. But it goes back to finding that right partner and implementing the right solution, beyond just the ROI calculations. Sometimes people just look at that number and make decisions based on that number and they implement something that ends up getting turned off many years down the road or it landlocks your facility - you have to think about the bigger picture. And also think about the ability to expand your solution into something larger down the road so that if your production does ramp up, you have the ability to flex and scale. That will be very, very important."
"I think number one, related to today and what we are going to see tomorrow is getting people back to work in a confident manner where they are staying safe and they are developing those new practices and I think automation is going to prevail and the way we implement that. People are going to be appreciative of a long-term supply chain and how that is impacted. Hopefully they will see it as an advantage for them to educate themselves on technology, software, and machine learning. It is a fascinating environment. My background is software but I am more focused on the business now. I still dabble in the evenings in software. It is more to keep current, so that I can ensure as we lead the organization together that they know I am relevant with the technology."
What's Ahead in the Industry
AMT is well positioned to continue supporting the automation and control system industry into the future. Craig said, "I am very optimistic. I have done a number of CEO roundtables lately with a number of groups. Some are in the supply chain; some are in user manufacturing for a product that is in demand right now or in short supply. Long term, automation and robotics - and how the technology is maturing with the ease-of-use - are really going to be required for manufacturing to stay competitive. I feel very well positioned not only from our company's perspective but from the support we are giving to the industry. People are staying home, counting on those supplies to be on those shelves when they were short-stocked four weeks back. They are counting on this robotic equipment and automation to be able to produce that and to fill those shelves and replenish that stock. I am proud to be a part of that industry and serving it greatly."
"It's that combination of managing your workforce - leveraging your current human intellect and investing in your people and the combination of both the technology and your current workforce. Not displacing them, but upskilling them is really what is going to drive the productivity and our competitive advantage in the future."
Host Lisa Richter had one final question for Craig, asking what advice he would give to his younger self. Craig laughed, "Let's see if I can do it in one sentence. Younger me, and a younger version of me which I work with many of in the office and I love to mentor: 'Never stop learning and continue to invest in yourself. Your career will have many delayed gratifications. Strive every day to become the learning leader.' "
Listen to the full episode here.