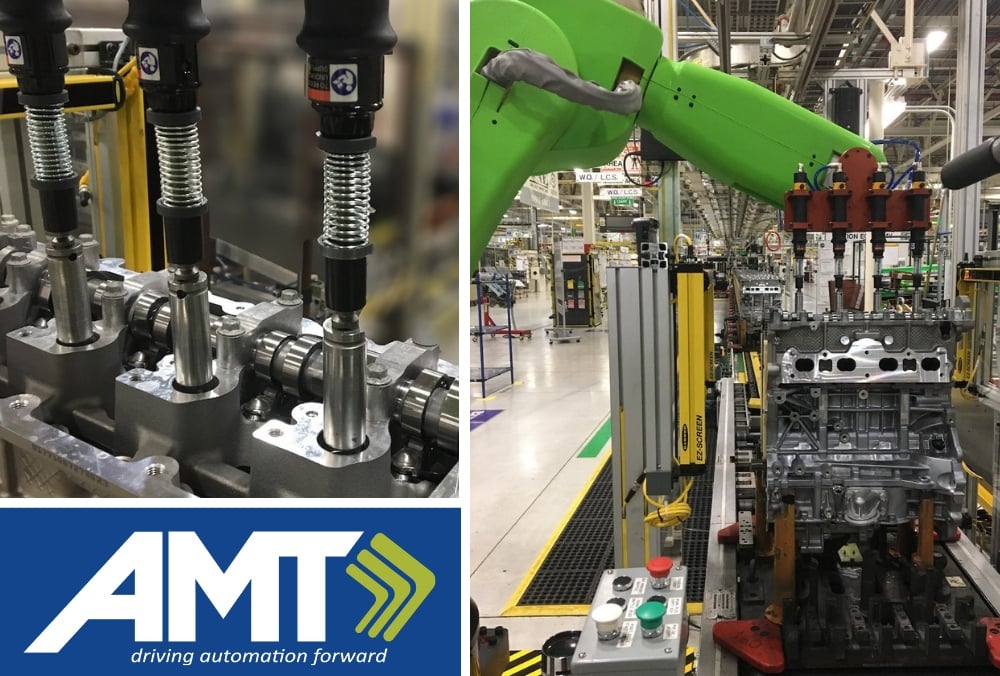 AMT's Vice President–Systems Rick Vanden Boom was featured in a recent Control Engineering magazine article entitled "Fenceless Safety Methods Embrace Human-Robot Interaction."
"We have a lot of people coming to us saying they want a collaborative robot. But as we talk through their applications, what they are really after is a fenceless robot," said Rick Vanden Boom, vice president–systems at Applied Manufacturing Technologies (AMT).
In the article, Vanden Boom discussed a recent project at an automotive powertrain manufacturing facility. AMT engineers designed and installed a system with the first collaborative robot ever deployed at this plant. The foam-clad FANUC robot has a 35 kg payload and custom-designed end-of-arm tooling (EOAT) to install four spark plugs at a time.
The human operator works in close proximity with the fenceless robot, loading the spark plugs into the EOAT. When complete, the operator pushes a button and the robot finds the correct position on the engine block and installs the spark plugs into the cylinder heads. The robot has now been in use for over two years, and replaced an ergonomically-challenging task once performed by an operator. Former quality issues at this station have now been resolved.
"With the collaborative robot, it was a much simpler implementation than using a traditional robot and adding light screens or area scanners," Vanden Boom said. "The motion is fairly limited, and it allows very good interaction with the operator."
To read the entire article, click here.
To learn more about AMT's collaborative and fenceless robotics capabilities, click here.